Kate Middleton Baby Will Be Called 'Princess,' Queen Declares
Kate Middleton Baby Will Be Called 'Princess,' Queen Declares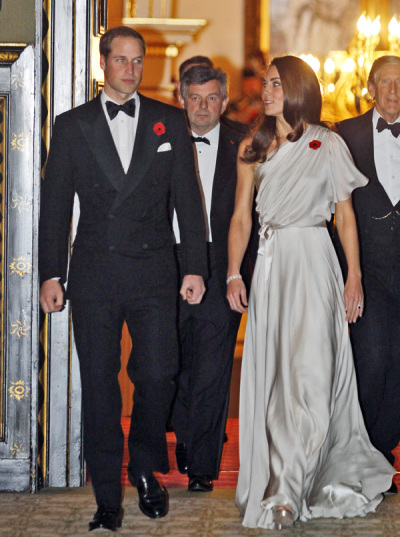 Kate Middleton and Prince William's baby will hold the formal title of prince or princess, depending on its gender, The Queen of England announced.
In a formal decree issued on Middleton's birthday, Queen Elizabeth II declared that the Duke and Duchess of Cambridge's first child will hold a royal title and will also be referred to as His or Her Royal Highness, according to People magazine. The legal decision overturns a 1917 decree issued by the Queen's grandfather, King George V.
"It says, 'The Queen has been pleased by Letters Patentunder the Great Seal of the Realm dated 31 December 2012 to declare that all the children of the eldest son of the Prince of Wales should have and enjoy the style, title and attribute of royal highness with the titular dignity of Prince or Princess prefixed to their Christian names or with such other titles of honour,'" a declaration signaled in The London Gazette stated.
The historic decision reportedly adheres to proposed changes in legislation aiming to eliminate gender discrimination in the line of succession. The British government and Commonwealth officials have initiated the procedure of improving outdated laws with the goal of allowing a firstborn girl to succeed the throne regardless of whether or not she is followed by a boy.
Middleton, 31 confirmed her pregnancy on Dec. 3 and she is said to be close to three months pregnant.
"Their Royal Highnesses The Duke and Duchess of Cambridge are very pleased to announce that The Duchess of Cambridge is expecting a baby," the palace said in a statement. "The Queen, The Duke of Edinburgh, The Prince of Wales, The Duchess of Cornwall and Prince Harry and members of both families are delighted with the news."
The Duke and Duchess, who have been married almost two years, sparked rumors that they were expecting twins after Middleton was hospitalized with hyperemesis gravidarum. The condition causes severe vomiting in pregnancy, and is more prevalent in women who are pregnant with twins.
It is unclear how exactly the Queen's decree would be enforced if the couple do in fact have twins and a former schoolmate of Middleton confirmed that twins for the couple would be "a dream come true."
"Catherine would love twins and a lot of people in their circle in London say it could indeed be the case that she is expecting twins," Jessica Hay, who once shared a dorm with Middleton at Marlborough College, told Australian magazine New Idea. "If it were a boy and a girl, it would be a dream come true for them both."
Kate Middleton Pregnant?