Kim Kardashian Flour Bombed in Humiliating Red Carpet Attack (VIDEO)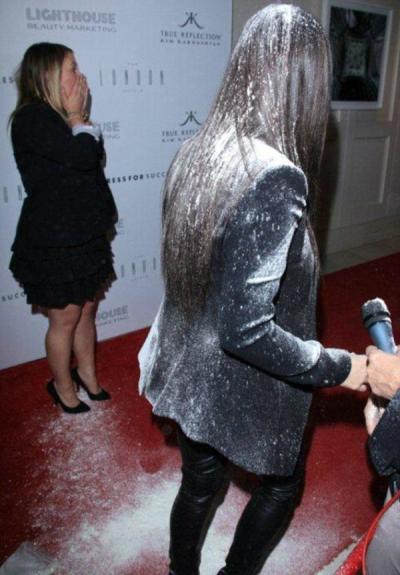 Kim Kardashian was left shaken after a woman doused the reality TV personality with flour during a red carpet appearance for the launch of her new perfume in West Hollywood on Thursday night.
The 31-year-old arrived at The London Hotel for the launch of her "True Reflection" fragrance with her mother, Kris Jenner, and within minutes was left humiliated after the woman attacked her with cooking flour, according to TMZ.
In an online video, which has already gone viral on social networking website YouTube, an unsuspecting Kardashian is seen posing for cameras as she makes her way though the red carpet and is suddenly ushered away after the attack, while the woman attempts to flee the scene.
Chaos erupts as security guards scramble to capture the young woman, who is eventually handed over to local police and the incident was allegedly deemed serious enough for Kardashian's entourage to call on the fire department, who arrived shortly after.
The incident follows ongoing criticisms that Kardashian has faced since she announced her divorce from NBA star, Kris Humphries, after just 72-days of marriage.
Kardashian fans instantly labeled the wedding a publicity stunt on Kardashian's part for financial gain, and despite reports that Humphries may have been behind the flour bombing attack, he immediately denied having any involvement.
"(He) would never condone hateful and unacceptable behavior like that to anyone, in any situation," a statement from Humphries' reps said, according to Daily Mail.
A growing number of Hollywood celebrities have recently spoken out against Kardashian, who rose to fame in 2007 following the released of her sex tape with singer Ray J. "Mad Men" actor Jon Hamm and "James Bond" actor Daniel Craig both publicly condemned her celebrity status.
Kardashian's sisters, Khloe and Kourtney, both immediately took to Twitter after the flour bombing incident to defend her.
"I'm proud of how Kim handled the situation," Khloe tweeted. She later added, "I wish I was with my sister tonight. I bet you that woman wouldn't have dared tried a thing..."
Kourtney was also outraged about the attack, sarcastically labeling the woman "classy" via Twitter.
See Kim's flour-bombing below.