Mandela's Daughter: He's 'Still There,' Former South African Leader Improving (VIDEO)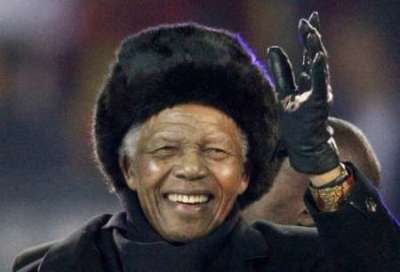 Former South African President Nelson Mandela is not dead and "still there" his eldest daughter, Makaziwe, recently confirmed.
On June 8, the 94-year-old anti-apartheid hero was hospitalized for a recurring lung infection. In recent days it was claimed that he was on the brink of death, but Makaziwe blasted these reports. While Mandela is said to be frail and still being treated after nearly three weeks in a Pretoria hospital, his family insists that death reports in the media are premature and not appropriate.
"I won't lie, it doesn't look good but as I say, if we speak to him, he responds and tries to open his eyes. He's still there," Makaziwe said Wednesday to state broadcaster SABC after visiting her father.
"There's sort of a racist element with many of the foreign media, where they just cross boundaries. It's truly like vultures waiting when the lion has devoured the buffalo, waiting there for the last of the carcass," she complained. "That's the image we have as a family."
South Africa's President, Jacob Zuma, revealed Thursday that Mandela, who is arguably one of the world's most iconic leaders, had showed signs of improvement.
"He is much better today than he was when I saw him last night. The medical team continues to do a sterling job," Zuma said in a statement released by his office. The presidency said Mandela remains "critical but is now stable."
U.S. President Barack Obama, who is currently traveling throughout Africa, sent well wishes to the man he referred to as "a hero for the world" ahead of his visit to South Africa. Obama Obama will visit the nation on Saturday as part of a three-country tour, but is not expected to meet with Mandela.
"He's a personal hero, but I don't think I'm unique in that regard," Obama said at a news conference in Dakar with Senegalese President Macky Sall.
"I think he's a hero for the world. And if and when he passes from this place, one thing I think we'll all know is that his legacy is one that will linger on throughout the ages," he added.