Meagan Good Shares Special Anniversary Message With DeVon Franklin
Meagan Good Shares Special Anniversary Message With DeVon Franklin
Meagan Good, the 31-year-old actress, recently took to her Instagram account to honor her husband DeVon Franklin on their anniversary.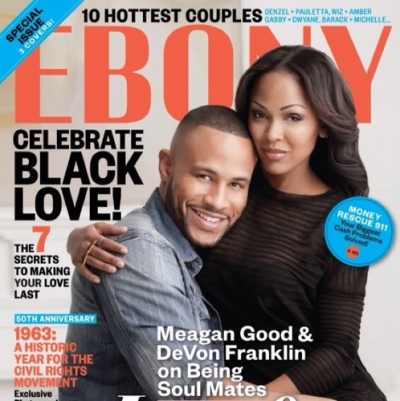 Good, the Christian "Think Like a Man" actress who began dating 35-year-old Franklin on the set of their joint movie venture "Jumping the Broom," recently celebrated her and Franklin's one year wedding anniversary. The actress took to Instagram to dedicate a special message to her husband.
"You have changed my life,.. your real unconditional love, spirit, non-judgement and patience has helped me grow and healed many wounds," Good wrote to her husband. "...You are God's blessing that has given me the most joy I have ever experienced -and more joy then I never knew was possible.."
The Christian actress spoke about the love of God being shown through the love of her husband.
"I can halfway fathom the depths of God's love for me - because he sent me you," she wrote. "You are my partner in purpose.., my best friend...your essence has helped refine the woman that I already was in spirit- to manifest in the flesh."
Before she signed the message "Mrs. Franklin," Good spoke about what an honor it is to be married to her husband.
"You are the most incredible man that I've had the pleasure of knowing and loving.. you make my time here better ..and beautiful," she wrote. "It is my greatest Honor to be loved by you ...Happy Anniversary my King under my King ... I love you now and into the next life.. 1year in ... A lifetime to go."
The pair exchanged nuptials at the Triunfo Creek Winery in Malibu, Calif., on June 16, 2012 PEOPLE magazine reports. The couple welcomed 400 guests, including celebrities Tracey Edmonds, Derek Luke, Deion Sanders and Tasha Smith.
Franklin, VP of Production at Columbia/Sony Pictures and Seventh-day Adventist minister, admitted that his new wife has changed his life.
"I've never had more peace, fun, and joy than I've had with her," Franklin told PEOPLE last year.
Meagan Good & Devon Franklin Talks on Family Life