Miguel Not Warned Against Billboards Leap, Reports 'False' (VIDEO)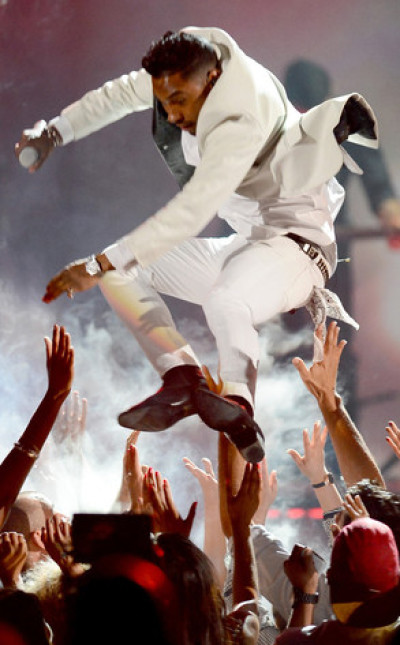 Singer Miguel has denied he was warned against leaping over the crowd ahead of his May 19 Billboard music awards performance, insisting that reports are false.
The Grammy award-winning artist was performing his hit single "Adorn" when a bizarre leap stunt went horribly wrong. Miguel, 27, accidentally landed on fans after the failed leap. A rep for the singer claims producers had, in fact, greenlighted the stunt ahead of the performance.
"The reports claiming that Miguel was warned by producers not to jump are completely false," the rep told TMZ.com.
The celebrity gossip website also claims producers asked Miguel to confirm whether he would be leaping over the heads of fans standing in a moshpit to ensure that the stunt was captured on camera.
While attempting to leap over the moshpit, Miguel accidentally kicked avid fan, Khyati Shah. On Monday it was claimed the young woman may have suffered brain damage as a result of the leap accident. Shah is said to be exploring her legal options as she awaits results from neurological tests.
"Some of the difficulties she's experiencing are cognitive in nature and lead to suspicion of a neurological head injury," Shah's attorney Vip Bhola said.
"We will determine [legal action] after we have feedback from medical providers," he told E! News.
Shortly after the kicking incident occurred, Miguel took to social networking site twitter to assure fans that Shah was fine. Despite receiving criticism over his handling of the matter, his rep maintains that he did in fact reach out after the performance.
"A number of attempts were made to reach Khyati and her lawyer after the performance to see how she was doing and whether any assistance could be offered," the rep said.
The singer is said to be more concerned about Shah's health as opposed to reports of a potential lawsuit.
"I don't think [a lawsuit is] on his mind. I think right now he's just hoping the girl will be fine and not have any serious damage to her head," a source told HollywoodLife.com.
"I know if he had to go back in time he wouldn't have tried to pull that off. But it's in the past now, nothing he can do," the source added.