Nicki Minaj Denies Jennifer Lopez Feud on 'American Idol'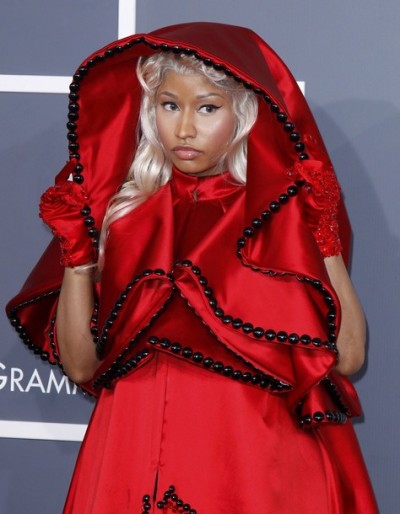 Nicki Minaj insists that she has no issues with "American Idol" judge Jennifer Lopez, after viewers witnessed what appeared to be a heated exchange between the pair on Thursday night's results show.
"No, actually, I love J-Lo. I love what she's done for pop culture I have nothing but respect for her and we were just joking around. I'm sure I'll have lots of fun with them when I'm guest judging," Minaj told The Hollywood Reporter.
Minaj, a renowned Hollywood rap artist, took to the "American Idol" stage to perform her new single "Starships" and later joked about gunning for Lopez's judging role on the hit show.
"I was hoping maybe I could come back and be a guest judge, J-Lo, can you scoot over a little bit?" Minaj asked Lopez.
Lopez, who like Minaj is a female entertainer as well as a guest judge on the show, did not take the question lightly.
"Hey, hey! I don't know if there's enough room for both of us," a slightly heated Lopez hit back.
The "Super Bass" singer appeared to shrug off Lopez's remarks, as she did with her near wardrobe malfunction.
At one point during her performance, Minaj appeared to be adjusting her attire, which otherwise could have exposed her chest area.
"That was fun! There were parts of that performance that were a little high-risk, if you know what I'm saying," "American Idol" host, Ryan Seacrest, told Minaj at the end of her performance.
Minaj, who released her second studio album, "Pink Friday: Roman Reloaded," on Tuesday, recently met with "X-Factor" producer, Simon Cowell, to discuss the possibility of becoming a guest judge for the singing competition show.
"Something like American Idol, it's iconic and has been around for so long and created so many stars. I would love to [guest judge] but as far as sitting down every week, I can't," Minaj said.