Oprah Changes Perspective on Rihanna, Chris Brown Relationship
Oprah Changes Perspective on Rihanna, Chris Brown Relationship
Oprah Winfrey claimed that she has no judgments about Rihanna's rumored reconciliation with Chris Brown, despite previously expressing criticism.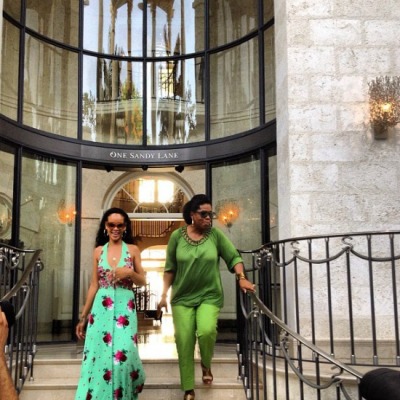 The renowned talk show host was asked about Rihanna, 24, and Brown, 23, and their reported rekindled romance. Oprah insisted that she has no qualms with the Bajan singer's decision to take him back after their 2009 domestic assault incident.
"I think that if she is prepared to deal with that and is prepared to help him help himself then so be it," Oprah told Extra on Oct. 5.
"I have no judgment about it. That's why I can sit there and have such a great time with her because I do all my interviews with no judgment whatsoever. If that's how you choose to lead your life, that's really okay," she went on.
On Thursday, Brown, who has been photographed spending more time with Rihanna publicly in recent weeks, ended his 2-year relationship with Karrueche Tran, and admitted that he did so over Rihanna. The news fueled reports that the couple is back together.
"I don't want to see her hurt over my friendship with Rihanna. I have decided to be single to focus on my career. I love Karrueche very much but I don't want to see her hurt over my friendship with Rihanna," Brown reportedly told TMZ.com. "I'd rather be single allowing us to both be happy in our lives."
During a candid interview with Oprah in August, Rihanna admitted that Brown is the love of her life and that they both will always love each other. The talk show host appeared to be more understanding of the singer's decision to forgive him for assaulting her.
"You know what I loved about that interview is that she came with a big, wide open heart," Oprah said. "She was in the space of forgiveness. And that she learned a lesson, that she was repeating with Chris Brown exactly what she needed to learn from her father."
Oprah was running her syndicated talk show "The Oprah Winfrey Show" at the time that Rihanna was physically assaulted by Brown and the 58-year-old publicized her opinion about the incident on the show, which some critics said had upset the "We Found Love" singer at the time.
"Let me tell you why [Rihanna] got back with [Brown], in my opinion if you go back with a man who hits you, it is because you don't feel you're worthy of being with a man who won't," a candid Winfrey told her audience. "If a man hits you once, he will hit you again. He will hit you again."
Rihanna, who went back to Brown after the assault before eventually leaving him, took to Twitter to respond to Oprah, which fueled speculation that she was irritated by the talk show host's comments.
"I hear Oprah and what she is saying, But.. at the same time she does not know what's best for me i do respect her though," Rihanna tweeted.
Rihanna Crying During Oprah Interview, Singer 'Terrified' of Fame