Subway Foot-Long Measurements Prove Sandwich Isn't Really 12 Inches (PHOTO)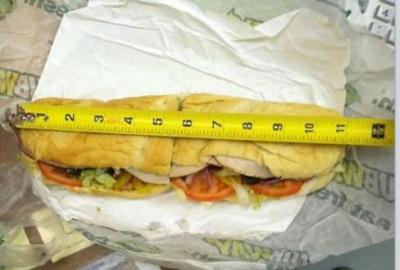 Subway, one of the world's fastest growing franchises, has found itself mired in controversy following claims which appear to prove that the franchise's 12-inch foot-longs do not all measure up in accordance with its branding.
Australian Subway customer Matt Corby left Subway executives red-faced after posting a photograph of his foot-long sandwich on Facebook alongside a tape-measure, revealing it was only 11 inches. Subway, which has almost 38,000 restaurants in 98 countries, prides itself on making "fresh" 6 or 12-inch subs and salads, with the measurements even becoming embedded in its branding initiatives.
"I for one am glad someone finally said something. Not only are they short ...they never are as "FULL" of meat as they picture them," Facebook user Deborah Rhynes wrote in response to Corby's now viral photo.
Corby had quickly posted the photo on Subway's Facebook page alongside the photo caption "subway pls respond" and within hours he garnered more than 100,000 "Likes."
"If I pay for a sub advertised as a foot long, I expect it to be a foot long!" another Facebook user Frank Zebley wrote.
"False advertising is a crime!" another Facebook user Dave Wallace wrote.
Subway executives wasted no time implementing damage control and addressed the controversial photo while insisting Corby's was an "isolated case."
"As you know, all of our sandwiches are made to order, and our bread is baked daily in every one of our more than 38,000 restaurants in 100 countries worldwide. We have policies and procedures in place to ensure that our products are consistent and have the same great taste no matter which Subway restaurant you visit," A Subway spokesman told The Huffington Post via email.
"We have seen the photo you referenced of a Subway sandwich that looks like it doesn't meet our standards. We always strive for our customers to have the most positive experience possible, and we believe this was an isolated case in which the bread preparation procedures were unfortunately not followed," the statement added.