Alec Baldwin to face manslaughter charges in 'Rust' shooting: 'No one is above the law'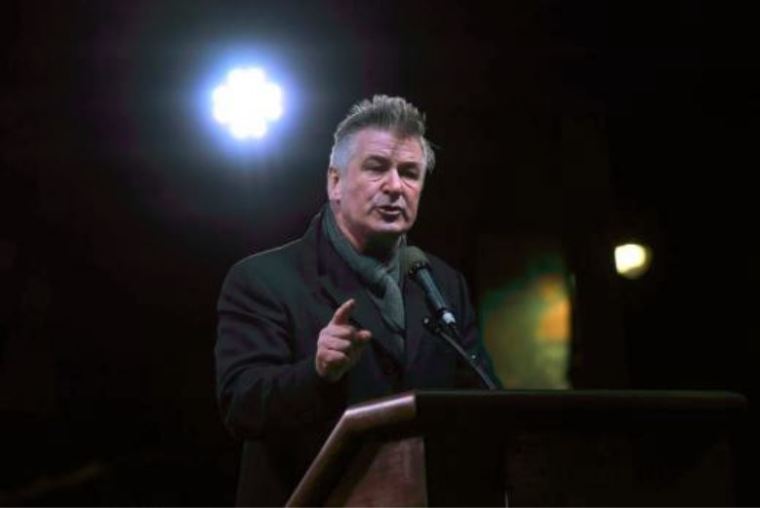 Actor and producer Alec Baldwin will face involuntary manslaughter charges in the fatal shooting on the set of the movie "Rust," prosecutors announced Thursday.
Baldwin and armorer Hannah Gutierrez-Reed will each be charged with two counts of involuntary manslaughter in the death of Halyna Hutchins on the film's Santa Fe County set in 2021, according to New Mexico First Judicial District Attorney Mary Carmack-Altwies.
The shooting occurred on Oct. 21, 2021, at the Bonanza Creek Ranch in Bonanza City, New Mexico, where cinematographer Halyna Hutchins was fatally shot and director Joel Souza was injured after a live round was discharged from a revolver held by Baldwin during rehearsal.
The charges were announced in a statement from Carmack-Altwies and special prosecutor Andrea Reeb Thursday morning.
"After a thorough review of the evidence and the laws of the state of New Mexico, I have determined that there is sufficient evidence to file criminal charges against Alec Baldwin and other members of the 'Rust' film crew," Carmack-Altwies said.
"On my watch, no one is above the law, and everyone deserves justice."
Baldwin and Gutierrez-Reed will be "charged in the alternative" with the two counts of manslaughter, meaning that jurors would determine which definition of involuntary manslaughter would apply.
Under New Mexico law, the first charge of involuntary manslaughter is a fourth-degree felony and is punishable by up to 18 months in jail and a $5,000 fine, prosecutors said. If applied, this charge would also include the misdemeanor charge of negligent use of a firearm.
The other, more serious charge is involuntary manslaughter in the commission of a lawful act, which requires proof beyond simple negligence involved in a death. 
While this charge is also a fourth-degree felony punishable by up to 18 months in jail and up to a $5,000 fine, it also includes an added mandatory penalty because a firearm was involved, which makes the crime punishable by a mandatory five years in jail.
David Halls, the first assistant director on "Rust," already agreed to plead guilty to negligent use of a deadly weapon.
No charges will be filed in the non-fatal shooting of Souza.
"If any one of these three people — Alec Baldwin, Hannah Gutierrez-Reed or David Halls — had done their job, Halyna Hutchins would be alive today. It's that simple," said Reeb. 
"The evidence clearly shows a pattern of criminal disregard for safety on the 'Rust' film set. In New Mexico, there is no room for film sets that don't take our state's commitment to gun safety and public safety seriously."
Charges are expected to be filed by the end of the month.
In an interview with ABC News last month, Baldwin denied pulling the trigger during rehearsal that fateful day, saying only that he cocked the antique Colt .45 revolver while blocking out the scene with Hutchins and other crew members.
Baldwin was reportedly practicing a "cross draw" in an old church when he pointed the revolver toward a camera near where Hutchins was standing.
"She's guiding me through how she wants me to hold the gun for this angle," he told ABC News' George Stephanopoulos. "I'm holding the gun where she told me to hold it, which ended up being aimed right below her armpit."
Baldwin said to get the shot, he needed to cock back the gun's hammer but denied pulling the trigger.
"The trigger wasn't pulled," he said. "I didn't pull the trigger."
The day after the shooting, actor Stephen Baldwin, Alec's brother, and an outspoken Christian, asked for prayers "for all involved" in the tragic shooting.
The 55-year-old Baldwin wrote on Instagram: "Asking for prayers tonight friends not much can be said other than please pray for all involved in the tragic in the wake of this tragic accident thank you."
While it's unclear whether Alec Baldwin shares Stephen's faith, he shared a post last January — amid the ongoing investigation into the "Rust" shooting — where he pointed to how Elijah sought direction from God by waiting to hear that "still, small voice of God."
Baldwin wrote: "At a time when Elijah desperately needed to receive direction from God, he had to wait until all noise passed, and only when he was in a gentle stillness did he hear the still, small voice of God speaking to him."