Amy Grant defends decision to host same-sex wedding: 'I love those brides'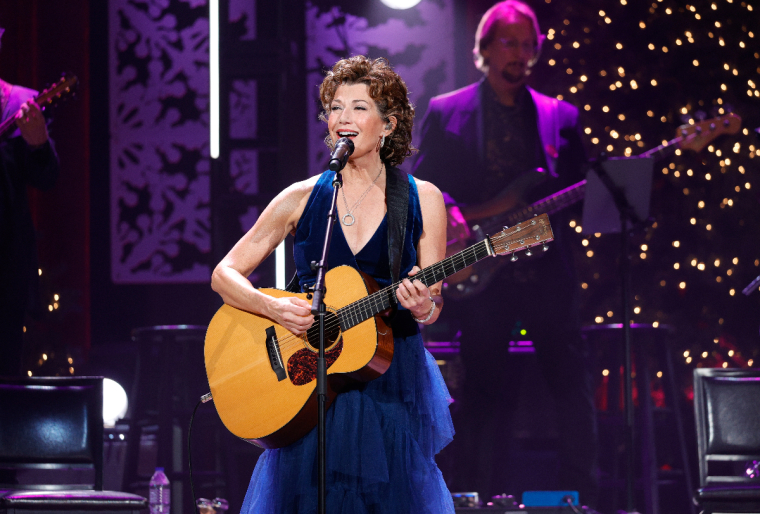 Popular contemporary Christian singer Amy Grant has defended her decision to host a same-sex wedding at her farm after some Christian leaders criticized the move as an endorsement of sin.
Grant, well-known for singing contemporary Christian hits such as "Mary Did You Know" and "Breath of Heaven" in addition to mainstream pop music, reacted to the backlash she has received for her decision to host her niece's same-sex wedding in a statement to People Magazine published Monday.
"I never chase any of those rabbits down the rabbit hole," she said.
"I love my family, I love those brides. They're wonderful, our family is better, and you should be able to be who you are with your family, and be loved by them," Grant added.
Recalling how her niece was "just looking for a beautiful place to get married," she expressed gratitude that "she and Sam got married on the same hillside where Vince [Gill] and I got married." Grant and Gill, a country singer, will celebrate their 23rd anniversary in March. 
Grant indicated her intention to host her niece's same-sex wedding at her farm in an interview with The Washington Post published in November.
The singer described the wedding as her family's first "bride and bride" nuptials and saw her niece's sexual orientation as "a gift to our whole family to just widen the experience of our whole family." She explained that she viewed her support for the LGBT community as consistent with the fact that Jesus "narrowed it down to two things: love God and love each other."
Noted Christian leaders reacted to Grant's plans to host the same-sex wedding.
Franklin Graham, CEO of Samaritan's Purse and the Billy Graham Evangelistic Association, took issue with Grant's interpretation of Christian teaching in a Dec. 18 Facebook post.
"Yes, we are to love God and love each other. But if we love God, we will seek to obey His Word," the son of legendary evangelist Billy Graham wrote. "Jesus told us, 'If you love Me, keep my commandments' (John 14:15)."
"God defines what is sin, not us; and His word is clear that homosexuality is sin. We have all sinned, and in order to have a relationship with God and spend eternity with Him in Heaven, we must turn from our sin and put our faith in His Son, Jesus Christ, who came to earth to die for our sins. The Bible says, 'Repent, then, and turn to God, so that your sins may be wiped out,' (Acts 3:19)."
Graham stressed that "for me, loving others also means caring about their souls and where they will spend eternity." He also highlighted the importance of "loving people enough to tell them the truth from the Word of God," adding, "The word of God is something we can never compromise on." 
In an op-ed published by The Christian Post last month, author and ministry leader Larry Tomczak expressed his belief that Grant was hosting the same-sex marriage at her farm "sincerely as a goodwill gesture" while raising questions about "what it communicates."
Tomczak initially intended to deliver the contents of his op-ed as a letter to Grant, who he claims declined to read it.
"We affirm God's unconditional acceptance (welcoming us into a relationship when we 'repent and believe') but there is no unconditional approval of behavior contrary to what God prohibits," he wrote. 
"Jesus' directive to Paul was 'to open their eyes so that they may turn from darkness to light and from the dominion of Satan to God, in order that they may receive forgiveness of sins and an inheritance among those who have been sanctified by faith in Me' (Acts 26:18)," Tomczak stated.