'Voice' finalist Jeremy Rosado brings Kelly Clarkson to tears talking about the 'goodness of God'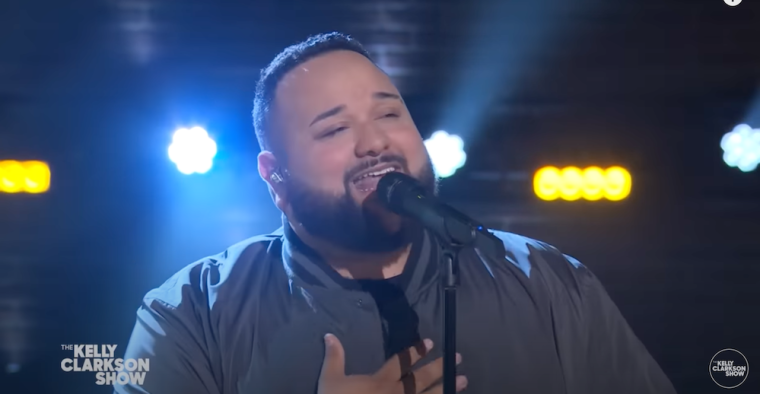 Christian singer Jeremy Rosado, who was a finalist on season 21 of "The Voice," was a featured guest on "The Kelly Clarkson Show" last week where he boldly shared his faith.
Rosado, who signed a major recording contract with Capitol Christian Music Group after his time on "The Voice," was invited on Clarkson's show to perform his new single "Believe You Will," and shared with his former coach why he's so passionate about his faith.
Rosado, who was a part of Clarkson's team in season 21 of the singing competition, won the hearts of viewers with his powerful voice and his testimony of adopting his niece when he was just 21 years old. 
While on her daytime TV show, Clarkson pointedly asked Rosado about his faith, and he shared how Jesus helped him as he became a young parent.
"I love my sister, but she's had a struggle that's never allowed her to be the mom she needed to be," Rosado explained. He illustrated telling God, "I need you to show up. I need you to do what you promised you would do."
Rosado became emotional as he spoke. Clarkson, who also grew up in the church, was brought to tears. The crooner declared that he is "living in the goodness of God." And his song "Believe You Will" echoes that sentiment.
"You'll do this and you have before, God. You've proven to me that I'm not actually alone in this," Rosado shared of his conversation with God. 
The Christian artist told Clarkson he wants to put out music that "allows people to connect" and to "draw from those complicated and hard situations, pull hope out of them."
Clarkson celebrated Rosado and said that growing up in a Christian home and believing in God helped her realize that using her gift was much bigger than herself. 
Upon signing his record deal, Rosado said it was a dream come true. 
At the time, the singer exclusively shared how he felt with The Christian Post.
"It's been a decade since I started pursuing this career, so many years of ups and downs. So, to be here now feels unreal," he said. "I'm just so thankful to God; He has far surpassed anything I could think or imagine, and I can't wait to see where He takes me on this journey!" he declared.
Rosado has been working on a new album in Nashville and recently came off the road with Newsboys on their Stand Together Tour last fall.
While on "The Voice," Clarkson said she believed the Christian music world would eventually embrace Rosado.
"Whatever your next move is, Jeremy, I have no doubt that gospel music, Christian music, is going to wrap their arms around that beautiful, God-given talent that you have," Clarkson said to him before he departed from the NBC show.
At 21, Rosado made it to the top 13 on season 11 of "American Idol." 
He was highly praised by judge Jennifer Lopez during that singing competition, with Lopez giving him the nickname "Jer Bear." While on "The Kelly Clarkson Show," Rosado and the pop star joked about getting a nickname from Jennifer Lopez.
The Tampa-based worship leader is a Nuyorican native, which means he was born in New York but is of Puerto Rican descent. He moved to Florida as a young child and got his start singing at block parties.