100,000 Children Trapped in Hell-Like Mosul, Being Used as Human Shields by ISIS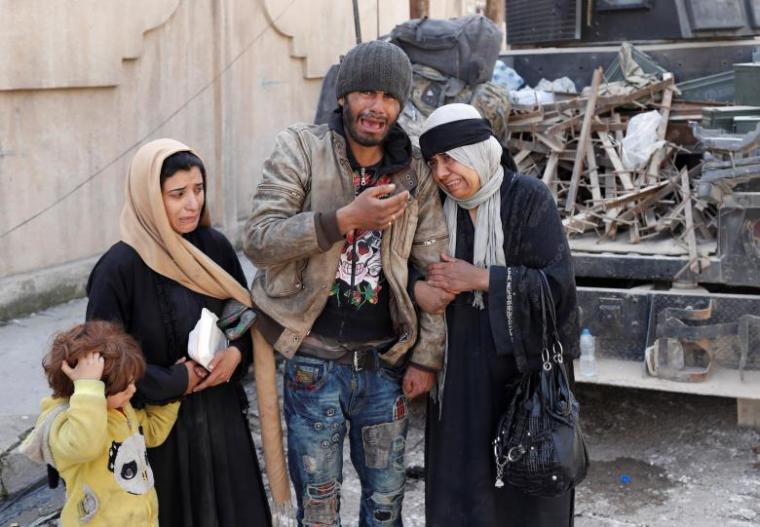 UNICEF, the United Nations' children's fund, has warned that as many as 100,000 children might be trapped in the embattled city of Mosul in Iraq, with the Islamic State terror group attempting to use them as human shields.
"We are receiving alarming reports of civilians including several children being killed in west Mosul. Some were reportedly killed as they desperately tried to flee the fighting which is intensifying by the hour," UNICEF's representative in Iraq, Peter Hawkins, said in a statement Monday.
"Children's lives are on the line. Children are being killed, injured and used as human shields. Children are experiencing and witnessing terrible violence that no human being should ever witness. In some cases, they have been forced to participate in the fighting and violence."
Hawkins said that the 100,000 boys and girls remain in "extremely dangerous conditions" in Mosul, which is surrounded by coalition troops hoping to retake the city from IS control, and further push the radicals out of the country.
"As the fighting continues, UNICEF calls on all parties in west Mosul to protect children and keep them out of harm's way at all times, in line with their obligations under humanitarian law," he added.
"Attacks on civilians and civilian infrastructure including hospitals, clinics, schools, homes and water systems should stop immediately."
CNN separately shared several stories of civilians who have managed to escape IS' clutches in Mosul in a report on Tuesday that included horror stories of children hiding next to the corpses of their parents.
"From underneath a black hijab a little girl peers out. Her mother had been dead for two days. The little girl hid against her mother's corpse," part of the report describes.
In another instance, 10-year-old Mariam Salim and her older sister, Ina'am, told rescue workers how their family was killed.
"My parents are under the rubble, (another) sister is dead. I saw her," Ina'am said. She explained that just as her family was fleeing, a mortar hit their house, causing the building to collapse.
"They are gone, they are gone." Mariam said. "My mother, father, sister, brother."
The U.N. has said that IS militants have been carrying out large scale slaughters, punishing civilians for trying to flee.
Zeid bin Ra'ad al-Hussein, the U.N.'s human rights chief, said that as many as 160 people were killed within a single day last week while trying to make it to safety.
"The brutality of Daesh (ISIL) and other terrorist groups seemingly knows no bounds," al-Hussein said.
"Yesterday, my staff reported to me that bodies of murdered Iraqi men, women and children still lay on the streets of the al-Shira neighborhood of western Mosul, after at least 163 people were shot and killed by Daesh to prevent them from fleeing."
Stephen O'Brien, the U.N. under-secretary for humanitarian affairs, previously warned that the jihadists are specifically targeting children.
"Although the U.N. is not present in the areas where fighting is occurring, we have received very disturbing reports of families being shut inside booby-trapped homes and of children being deliberately targeted by snipers," O'Brien said last month.
CNN described the happenings in Mosul as a "hell we cannot even begin to imagine."
"There is no past blueprint for this war, no one has fought an enemy like ISIS holding civilians hostage in this type of a dense urban battlefield. There are no words to comfort those who survive," CNN reported.
"Just the endless, throat-grabbing, suffocating sorrow."