30 US-Led Airstrikes Bombard ISIS Stronghold of Raqqa; 50 Militants Killed in Kobane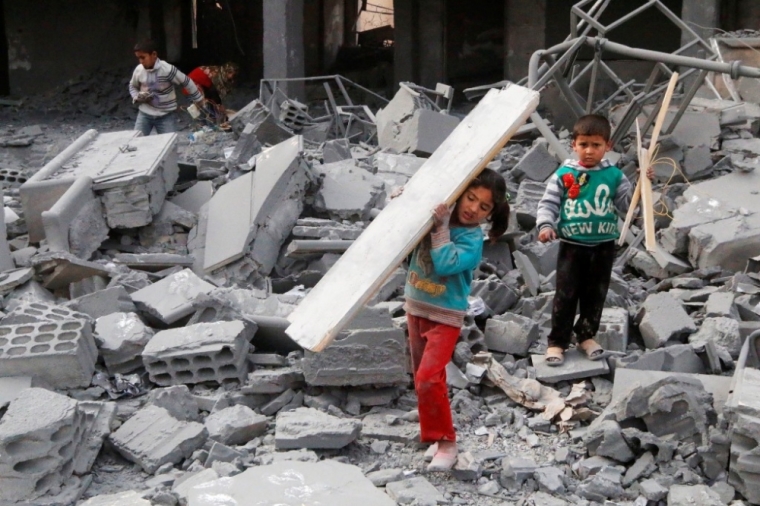 At least 30 airstrikes carried out by the U.S.-led coalition have struck the city of Raqqa in Syria, in some of the heaviest attacks on terror group ISIS' stronghold in the country. Meanwhile, at least 50 militants were killed in the ongoing battle for the border town of Kobane near Turkey.
CNN reported of several activist groups that have shared information about the airstrikes in Raqqa, which has been the sight of much fighting in recent months. Last week, at least 100 people were killed in the stronghold following airstrikes carried out by the government of Syrian President Bashar al-Assad, who's also battling ISIS but is not aligned with the U.S.-led coalition.
American warplanes have been striking terror targets across Iraq and Syria for months, seeking to stop the advance of the jihadist militants.
The Syrian Observatory for Human Rights added on Sunday that at least 50 ISIS members were killed by coalition airstrikes in Kobane, near the border with Turkey. The Islamic militants have been trying to capture the strategically important town for over a month, but so far have not succeeded in taking the city.
Raqqa has turned into something resembling a "zombie film" according to an activist inside the city.
"There are a lot of dead bodies and injured. There are just a few doctors, and because of that there are a lot of people dying from their wounds," the activist told BBC News.
"All the markets in the city closed after the air strikes. There is nobody walking in the streets — it's just like a zombie [film]," he added. "They are just afraid because they say in the morning there are regime air strikes and in the evening there are [US-led] alliance air strikes and it's very, very hard to live under IS."
The bombardment on the city has reportedly left only one hospital still functioning — at least before the latest round of airstrikes.
The Iraqi Ministry of Human Rights meanwhile reported on Sunday that ISIS militants have been seen transporting phosphate raw material from Iraq into Raqqa.
"The terrorist entity of ISIS has taken control of the phosphate facility at al-Qaem and is transferring raw material of phosphate to Raqqa in Syria," the ministry said in a statement.
It was not immediately clear why the jihadists are transporting phosphate, but Al Arabiya News noted that the material could be used in the making of explosives.