5 interesting things said during Trump's 'rebuilding' roundtable at megachurch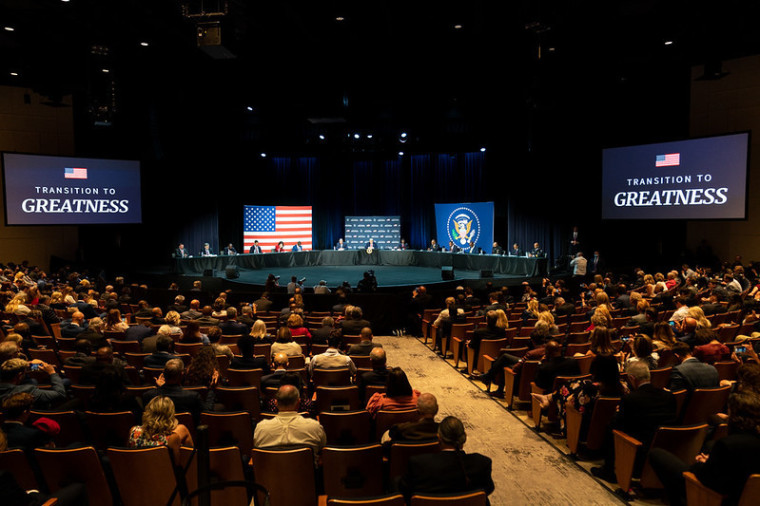 3. Achieving the 'full American Dream for all communities'
Attorney General Barr listed four "critical elements" necessary to ensure that all American communities, including black communities, have the opportunity to achieve the American Dream.
Along with economic growth, he listed education, moral discipline and safety.
"I think Condi Rice said a few years ago it's the civil rights issue of our time," Barr said of education. "Because without a good education, they are not allowing our young people to seize their opportunities and pursue their dreams. And as the president mentioned, it's only by empowering parents and giving them the power to choose the education for their children that we're ever going to be able to obtain that."
Earlier in the roundtable, Trump said his administration is renewing its call on Congress to enact school choice.
On "moral discipline," Barr said young people "have to have the discipline to seize the opportunity, to make momentary sacrifices for later gain."
Traditionally, such discipline came from religion, he noted. "We have to stop policies that undermine religion or relegate religion out of the public square," he said.
On safety, he acknowledged that there is distrust among black communities toward law enforcement. But he argued that there has been improvement as the crime rate has been cut in half and reforms have been made.
"I don't think now is the time to be tearing down our institutions because we've been on a march for the last 50 years of reforming our institutions, and we don't need to tear them down. We have to be mature about this and when we see problems, we have to redouble our efforts to reform our institutions and make sure they're in sync with our values."
"While we saw something very bad, it has helped perhaps galvanize the will of the country to bring good out of that," he said of the May 25 killing of Floyd while in police custody. "And we can't let that incident obscure the fact that progress has been made; that policemen are, by and large, by overwhelming majority, good, decent people who care about their community and put their lives on the line for us, their neighbors."
Trump also brushed off calls to defund the police and said he's going to work to have "stronger police forces" and make sure they're well trained.
"We must invest more energy and resources in police training and recruiting and community engagement," Trump said. "We have to respect our police. We have to take care of our police. They're protecting us. And if they're allowed to do their job, they'll do a great job. And you always have a bad apple, no matter where you go. You have bad apples. And there are not too many of them."
Addressing the recent riots, Trump said he's also finalizing an executive order to encourage police departments to "meet the most current professional standards of force. And that means force, but force with compassion. But if you're going to have to really do a job, if somebody is really bad, you're going to have to do it with real strength, real power."
4. Police mentor, help former inmates reenter society
Jon Ponder, CEO of Hope for Prisoners, highlighted a key aspect to his ministry's reentry program through which former inmates are able to successfully reintegrate back into the community — and that is partnering with the police.
"Our local sheriff at Las Vegas, Nevada, has given us close to 100 volunteer police officers that are mentoring and training men and women coming home from the prison system.  And never before in the history of reentry, nowhere on this planet, to this magnitude, have the men and women from law enforcement come alongside formerly incarcerated folks and helped them to successfully reintegrate back into the community," he said.
"That is just further evidence that we serve a gigantic God that wants to bridge the gaps … That is why that is so important because what God wants to do, the Bible calls it the "repairer of the breach."
There is a "disconnect" between law enforcement and black communities, where there is a lack of trust "because they're not in relationship with them," Ponder noted.
But through creative ways of bringing them together, such as the ministry's reentry program, the once disconnected communities can form relationships and realize they have "more in common than we have differences."
5. Improvements that need to be made in law enforcement
While maintaining that "this is not the time to defund police departments," Chief Dooley of the Glenn Heights Department in Texas offered ways to reform police departments nationwide.
He called for standardization in hiring, termination and disciplinary practices.
He also proposed developing a police officer decertification database "to get those bad apples out of our industry."
"We need more training," he further stated.
"When an organization or a business is struggling to be better, now is not the time to take away those resources. You provide them, and you hold them accountable, and you set expectations, and you manage them so they can be better."