ACT to End Racism Interfaith Service: Allahu Akbar, God of Many Names, Pharaoh in the White House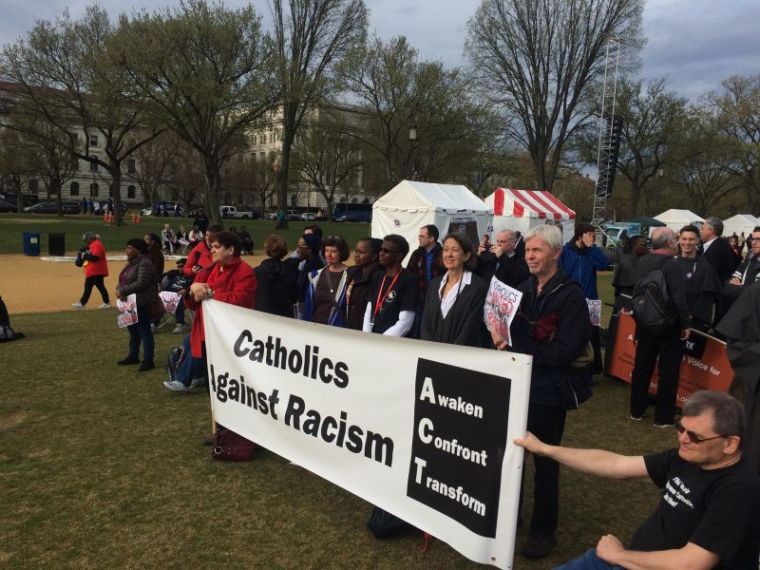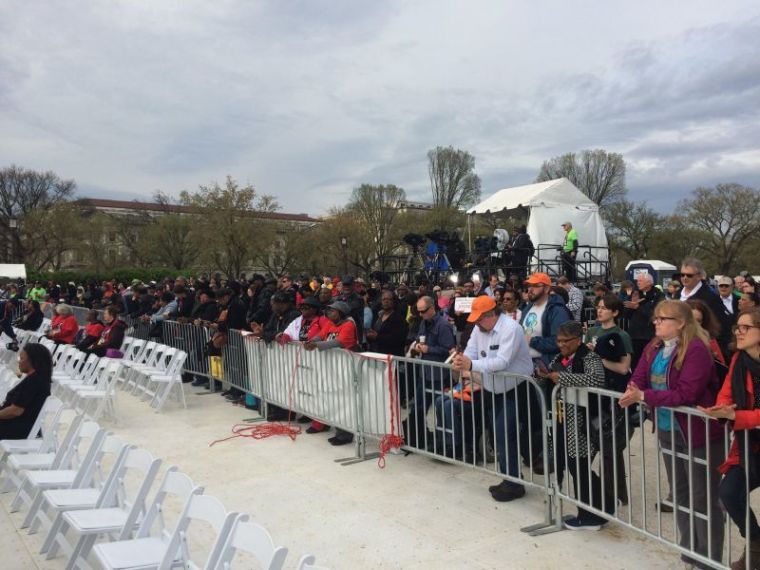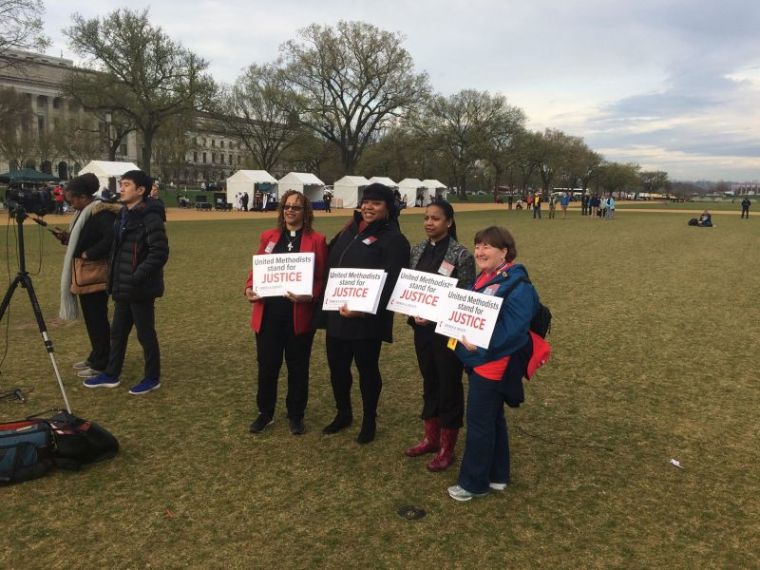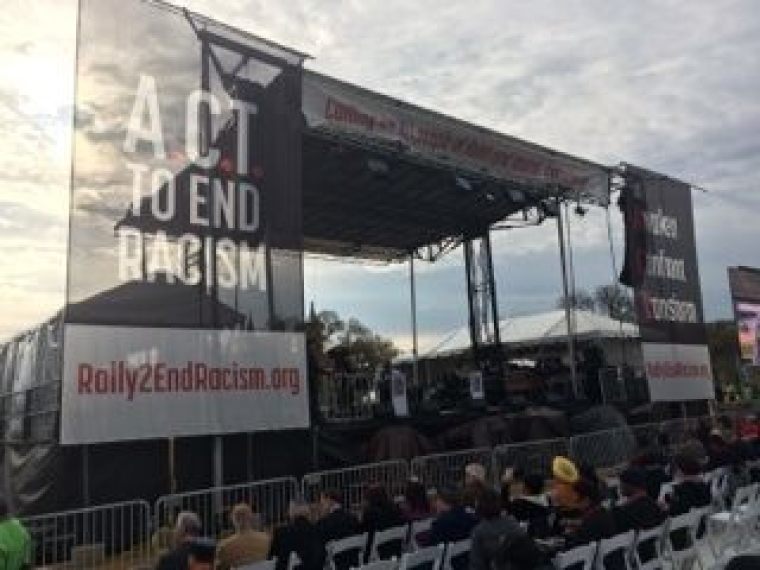 View Photos
WASHINGTON — Eighteen representatives from seven world religions gathered at a rally to end racism and offer prayers and exhortations, asserting a universality to their beliefs, intoning that they all worship the same God but call Him by different names.
Assembled on the National Mall Wednesday on the 50th anniversary of the assassination of Martin Luther King Jr., thousands participated in an interfaith religious service, prior to which participants had marched silently from the MLK memorial.
The service was part of the larger three-day "A.C.T. to End Racism" event spearheaded by The National Council of the Churches of Christ in the USA and their partners which launched its "Truth and Racial Justice Initiative." "A.C.T." is an acronym that stands for "Awaken. Confront. Transform."
The 18 representatives of the world religions didn't introduce themselves by name or mention which church or organization they represented, but made a point to condemn all kinds of bigotry and discrimination and praise the world renowned Civil Rights leader. The seven world religions represented were: Hinduism, Zoroastrianism, Judaism, Christianity, Islam, Church of Latter-day Saints, and Sikhism.
"From the words of their traditions, you will learn that we all worship the one and the same Creator God, though in different ways. And we all believe that we are part of one human family," a female cleric said at the opening of the service.
"We all live faithfully to respect our neighbor and to advocate for justice for all of God's people. Dr. King knew this truth, and to honor his life and death, we are committed to finishing his work of justice for all. And then God will rejoice and delight that we are creators of justice and joy."
The first two presenters were a Jew and Muslim. The Jewish woman blew a shofar and explained why Jews do so every 50 years. She was followed by a Muslim man who proclaimed "Allahu Akbar" several times before chanting in Arabic.
A Christian minister then took the stage explaining that "the truth of Genesis is that we are indeed created in the image of God, in the likeness of God, that we can discern that we have free will."
"We are not helpless victims of fear or bigotry. No, we are masters of our own destiny. We can choose how we can see the other. We can choose how we treat the other. We can stand up when the sacred is violated when fear or faith is used to teach hatred," he said.
"If religion can be taught to engender hate, then it can be taught to bring about love."
Two Eastern Orthodox clerics also addressed the audience, one of whom noted how racism is sin and is incompatible with the Gospel. He explained how the Lord "broke down the dividing wall of hostility that separated God from humanity and humans from each other."
"The Church proclaims," he continued, "that there can be neither Jew nor Greek, slave nor free, male or female, but all are one," referencing the words of the Apostle Paul in Galatians 3:28, in which the speaker left out the final words in that verse "in Christ Jesus."
The Sikh faith representative spoke of how their community has faced racism, hate crimes and discrimination in recent years because of their identity and "because of this turban and beard," he said, referring to his appearance, which leads some to assume he's a Musilm.
"But it stands for equality, it stands for justice," he asserted, and then offered up prayer from the founder of Sikhism, Guru Nanak.
"The main message is that once you realize that you are here for a divine purpose, and that God has created you to spread love in the world, then you will not discriminate or hold another person as inferior from yourself. Once you realize that, this is the most important divine wisdom you can have. This is the best religion to practice, is to love each other," he said.
The female Sikh representative with him then asked "the Creator" to "bless all the spirits joined here together in the name of love and peace."
A self-described "Unitarian Universalist Hindu" invited the crowd to pray with him. Invoking the "god of many names, spirit of justice and love," he remembered the "prophet and visionary" Martin Luther King Jr. and his advocacy during he Civil Rights era, decrying "all forms of oppression."
"May all be peaceful, may all be fit for wholeness, may all be filled with the Holy Spirit. Peace, peace, eternal peace," he prayed.
After a presentation of Psalm 23 in its original Hebrew by a Jewish woman an African-American Protestant clergywoman spoke about Saint Paul and Martin Luther King's understanding of God's love that strengthens in the midst of suffering and brokenness. She read a slightly redacted portion of Romans 8, "to remind us that everyone is encircled in God's love."
A representative from the Hindu tradition blew a conch, which is also is known as a shankha, a sacred emblem of the Hindu preserver god Vishnu. He explained that the conch represents the sound "ohm" and that "all sound emerges from silence and returns to silence and that silence is greater than all sound" and proceeded to blow it as one blows a shofar three times.
Several clergy were seen passing out to attendees copies of the April 2018 special issue of National Geographic. This Nat Geo cover story features twin girls, one of whom is white and the other black; the article title is "Black and White: These twin sisters make us rethink everything we know about race."
A representative from the LDS church also spoke, noting that this year marks the 40th year of the lifting of restrictions placed on black members in their faith community, and the necessity of loving one's neighbor.
The final representative was a Jewish man wearing a prayer shawl who spoke of the ongoing quest for justice and liberation for black Americans and for everyone else struggling against "the pharaoh in the White House."
After railing against environmental degradation, "corporate pharaohs" of our generation, he expressed concern about potential thermonuclear disaster and referenced the Hebrew prophet Malachi who spoke of "a day coming like a furnace," a day, he said, that is "shadowing upon us."
He then cited the final passage in Malachi where the prophet speaks of God sending Elijah to turn the hearts of the fathers to the children and the hearts of the children to their fathers, using the gender-neutral "parents."
"It is our task to make from fire, not an all-consuming blaze but the light in which we see each other. Each of us different, all of us made in one image, glowing with one spark."
He invited everyone to turn to their neighbor and look them in the eyes and then led everyone in singing, "This Little Light of Mine."
A black gospel choir filed in behind him as he did so and subsequently sang a reprise of the song, concluding the service.