After Abuse Claims, Teen Jailed For Sarcastic Facebook Comment Gets Hearing on Prohibitive $500K Bond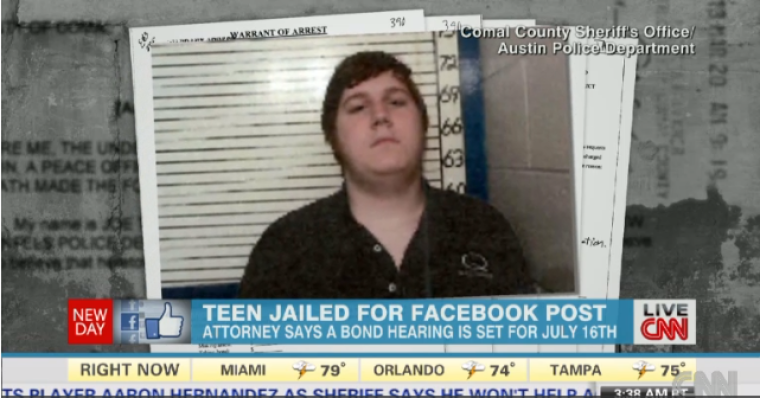 Justin Carter, the Texas teenager who was arrested more than four months ago and later jailed for a posting sarcastic comment on Facebook, may soon be able to go home after a judge this week agreed to a hearing on his prohibitive $500,000 bond.
Don Flanary, lawyer for the teen who was 18 when he was arrested in February, told CNN that his client will appear in the Comal County (Texas) District Court on Tuesday July 16 for the bond hearing.
"Justin is in bad shape and has suffered quite a bit of abuse while in jail," Flanary explained in an email in the CNN report. "We will likely bring out these issues at the bond hearing."
In an interview with NPR on Wednesday, however, Justin's father, Jack, was a little more explicit about the abuse he claims has been meted out to his son since his arrest.
Teen Jailed For Sarcastic Facebook Comment Gets Hearing on Prohibitive $500K Bond
"Without getting into the really nasty details, he's had concussions, black eyes, moved four times from base for his own protection," said Carter of his son's condition in jail. "He's been put in solitary confinement, nude, for days on end because he's depressed. All of this is extremely traumatic to this kid. This is a horrible experience," he added.
Justin's arrest was sparked by an incident during which he allegedly got into an argument with someone over an online video game called "League of Legends."
"Someone had said something to the effect of 'Oh you're insane, you're crazy, you're messed up in the head,' to which he replied 'Oh yeah, I'm real messed up in the head, I'm going to go shoot up a school full of kids and eat their still, beating hearts,' and the next two lines were lol and jk," explained Jack Carter in an earlier report.
Ignoring the follow-up "LOL" which is online speak for "laughing out loud" and "jk" indicating "just kidding," a Canadian woman who saw Justin's comments alerted local police who treated the teen's post as a terroristic threat pointing to recent school shootings.
The American Civil Liberties Union, which has also weighed in on the case, told CNN that while they are also concerned about school safety, it isn't the issue highlighted in Justin's case.
"We are all concerned about safety in our schools, but that's not what is at issue here," Rebecca L. Robertson, legal and policy director for the ACLU of Texas told CNN.
"The First Amendment protects a person's speech -- even speech that is in poor taste -- as long as it is not a true threat.
"Justin's online comment might have been distasteful and thoughtless. But, if the facts as reported are true, his comment is an objectionable joke rather than an actual threat, in which case the Comal County District Attorney is prosecuting protected speech. That's a dangerous precedent."