Asia Bibi Family Pleads With Trump, Western Nations for Asylum; Lives in Danger as Islamists Rage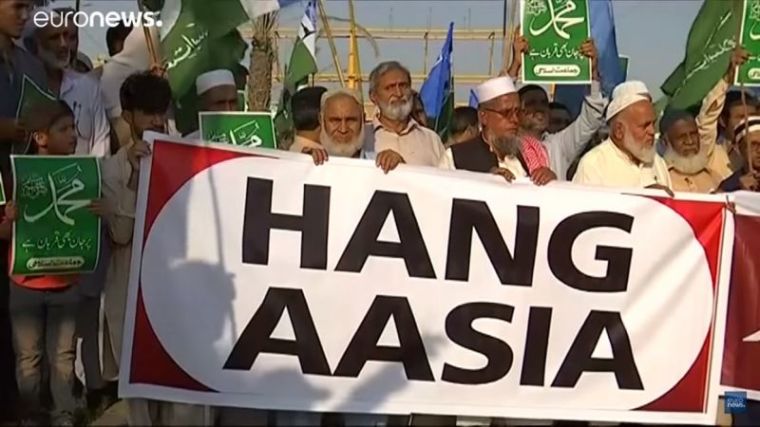 The family of Christian mother of five Asia Bibi has pleaded with U.S. President Donald Trump and other Western nations for asylum, fearing that their lives are in immediate danger.
"Our family was elated by the recent decision to free my wife but news of the governments capitulation to the rioters who want us all dead has broken our hearts," said Ashiq Masih, Bibi's husband, according to the British Pakistani Christian Association. 
"My daughters weep for their mother. Their hope that they would be reunited has been broken and they are trying to piece together their frail confidence that she will return to them," he added.
Persecution watchdog groups around the world initially hailed the Pakistan Supreme Court's decision to free Bibi after 8 years on death row for blasphemy, after she had been accused of insulting the Islamic prophet Muhammad.
The situation has been complicated, however, after violent protests by Islamists forced the Pakistani government into agreeing to delay allowing her to leave the country.
"That fundamentalists can cause our government to shift direction, alarms me, but I trust our God will give freedom and peace to Asia — through the prayers of our many millions of supporters who are not violent," Masih added.
"Jesus loves us and died for us, He will be feeling our pain and will show the world his divine nature by beating these impossible circumstances."
In a separate video message, Masih turned to world leaders with a desperate plea.
"I request [U.S.] President Donald Trump to help us leave [the country], and I request the prime minister of the U.K. to do their level best to help us, to grant us freedom," the husband said, as reported by Al Jazeera.
"I also request [this of] the prime minister of Canada," he added.
BBC News noted that Bibi's lawyer, Saif Mulook, was forced to flee Pakistan on Saturday, fearing for his life as hardliners blocked streets and chanted for Bibi's death.
Pakistan's Information Minister Fawad Chaudry claimed that security had been been "beefed up" to protect the Christian mother.
"Yes, there is a situation and we are dealing with it, but I assure you that her life is not in danger," Chaudry insisted.
He added that the government had made a deal to delay Bibi's release as a form of "firefighting," aiming to "resolve the situation without resorting to violence."
Eisham Masih, Bibi's 18-year-old daughter, revealed that her family has been moved from house to house, hiding from hardliners who want to do them harm.
"Sometimes we have seen and heard the large riots and we have watched as little TV as possible — all it shows us, is how many people hate us and want us dead. We choose to remember the love shown to us in countries outside of Pakistan," the daughter said.
"I have cried for joy when I heard my mother would be set free, I now cry for the despair of our situation only God can save us all and when I pray I have felt his presence at my darkest moments. He will show the world that no worldly institutions can thwart his plans for us.
The BPCA has called on Christians around the world to pray for Bibi that she, her family, and all those associated with her case be granted asylum abroad.