Asia Bibi's Release Delayed; Supreme Court to Review Acquittal Decision as Muslims Protest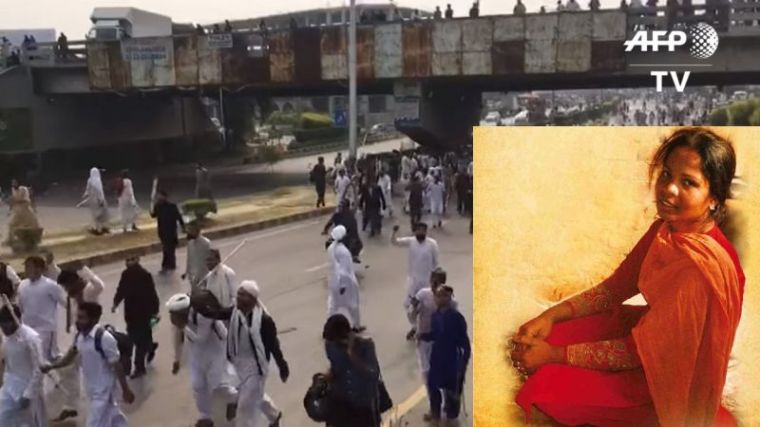 The release of imprisoned Christian mother Asia Bibi has been delayed as the Pakistan Supreme Court will have to review its decision to acquit the farm laborer of blasphemy charges after signing an agreement with a radical Muslim group.
Powered by Tehreek-e-Labbaik and other extremist parties, thousands of radical Muslim have protested nationwide since the Pakistan Supreme Court acquitted Bibi (also known as Aasiya Noreen) on Wednesday. The protests and sit-ins have grown and led to the disruption of cell service and school closures in some cities.
It was reported by her family on Thursday that Bibi (also known as Aasiya Noreen) was expected to be released and allowed the leave the country Thursday night after spending eight years on death row for blasphemy accusations that she denies.
But according to The Associated Press, an agreement was struck Friday between the Pakistan government and the Tehreek-e-Labbaik Party, which staunchly supports the nation's controversial blasphemy laws and was founded out of support for a man who was convicted of killing a Pakistani politician who sought blasphemy reform.
Federal Minister for Religious Affairs and Inter-Faith Harmony, Noorul Haq Qadri, who signed the agreement, announced that Bibi won't be allowed to leave Pakistan until the Supreme Court makes a final review of its verdict. In exchange, the TLP will call off their protests.
Pakistan's DawnNewsTV reports that the government agreed to "initiate the legal process" to place Bibi on the exit control list.
"Placing Asia Bibi on the ECL is like signing her death warrant," Wilson Chowdhry, chairman of the British Pakistani Christian Association, told The Guardian.
The agreement comes as the lawyer for the Muslim complainant who accused Bibi of blasphemy filed a petition for review of the Supreme Court decision on Thursday. The government said it won't oppose the request for Supreme Court review.
Additionally, the government reportedly agreed to release people who were arrested during the protests against the Supreme Court's decision.
The TLP agreed to apologize for the fact that its protests might have "hurt the sentiments or inconvenienced anyone without reason."
In addition to Qadri, the agreement was signed by Punjab law minister Raja Basharat.
On behalf of TLP, the agreement was signed by leader Muhammad Afzal Qadri, who earlier this week had called for the death of the three Supreme Court justices involved in Bibi's acquittal. The agreement was also signed by fellow TLP leader Muhammad Waheed Noor.
According to the AP, Pakistan's Supreme Court isn't known to reverse its decisions. However, court reviews can take years to settle, which could mean that Bibi might spend years more in prison.
In prison, Bibi's life has been in danger.
On Thursday, Pakistani authorities revealed that they arrested two prisoners last month for plotting to kill Bibi.
If she's released, activists say Bibi would need to be granted asylum in a foreign country because of the number of radical Muslims who want her dead in Pakistan.
Spain and France have reportedly offered the mother asylum, according to Bibi's family.
The BPCA, a London-based charity, has launched a petition calling on Western governments to offer asylum to Bibi and members of her family.
Chowdhry has been in contact with Bibi's husband, Ashiq Masih. Chowdhry reports that if Bibi and Masih are granted asylum in Spain or France, only her children who are dependent on her and her husband's care will also be granted asylum.
"We the undersigned ... urge all Western nations to offer full-family asylum for Asia Bibi, her husband Ashiq Masih and all her children, their spouses and Asia's grandchildren," the petition reads. "We also call for similar provision for their guardian Joseph Nadeem and his family who are also deeply under threat."