Muslims Block Roads, Call for Supreme Court Justices to Be Killed Over Asia Bibi Acquittal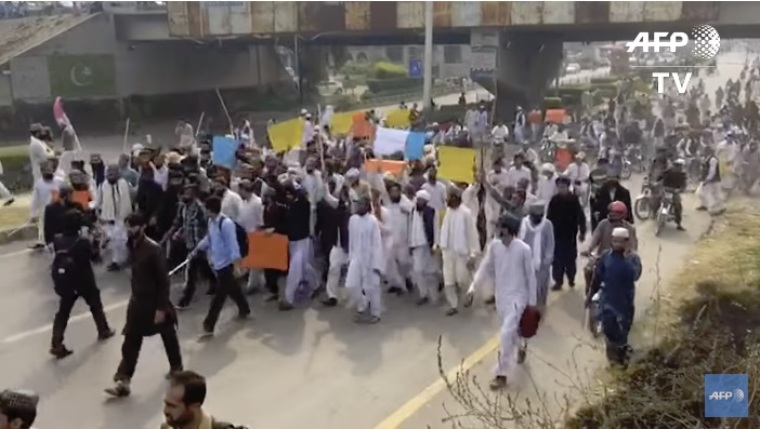 Muslim radicals in Pakistan have taken to the streets and are calling for the deaths of the Supreme Court justices responsible for releasing Christian mother Asia Bibi from death row.
Reuters reports that supporters of the Islamist political party Tehreek-e-Labaik Pakistan (TLP) have not taken too kindly to the Supreme Court's announcement Wednesday that it has acquitted Bibi (also known as Aasiya Noreen).
The mother of four has been on death row since 2010, after she was accused by Muslim women with whom she had an argument of blasphemy, and was sentenced to death by hanging.
In Pakistan, blasphemy (insulting Islam or its prophet Muhammad) is a crime punishable by life imprisonment or death. The law is often abused by Muslims looking to settle scores with religious minorities. Bibi has denied the accusations.
In response to the court's announcement that a three-judge panel reversed earlier court rulings against Bibi on grounds that evidence against her was insufficient, TLP supporters have reportedly staged street protests and have also blockaded major roadways.
According to Reuters, the size of the protests grew and by mid-afternoon, had paralyzed parts of major cities like Islamabad and Lahore.
CNN reports that the demonstrators blocked a roadway in Lahore and forced a major road that links Islamabad and Rawalpindi to be closed off.
At a rally in Lahore, a city about 30 miles from where Bibi grew up and worked as a farmhand, TLP co-founder Muhammad Afzal Qadri is said to have called for the death of Supreme Court Chief Justice Saqib Nisar and the two other justices on the panel.
"They all three deserve to be killed," Qadri was quoted as saying. "Either their security should kill them, their driver kill them, or their cook kill them."
Qadri asserted that whoever has "access" to the justices should "kill them before the evening."
Qadri's call for the justices to be killed should be taken seriously as there has been a history of violence against politicians who speak against the Pakistan's blasphemy laws and defend blasphemy victims.
In January 2011, Punjab Governor Salmaan Taseer was assassinated by his bodyguard Mumtaz Qadri, who disagreed with Taseer's desire to reform the blasphemy law. Taseer even filed a mercy petition on behalf of Bibi.
Two months later, Shahbaz Bhatti, a Christian politician and elected member of the national assembly who voiced opposition to the blasphemy laws, was assassinated by Pakistan's Taliban.
The TLP came to existence after Qadri was put to death for the killing of Taseer, although many radical Muslims wanted Qadri to be freed.
In addition to calling for the deaths of the Supreme Court justices, Qadri also called for the ousting of new Prime Minister Imran Khan. He also urged army subordinates to rise up and take military power from General Qamar Javed Bajwa, who Qadri said "should be sacked."
The TLP was not the only group protesting the Supreme Court's decision.
Reuters notes that two other religious movements announced plans to join the protest. One group is led by Hafiz Saeed, who is alleged to have been involved in the 2008 Mumbai terror attacks. Saeed, leader of the Lashkar-e-Taiba, is also the subject of a $10 million bounty in the United States.
In its ruling to set Bibi free, the court pointed out the irony in Bibi's case.
"It's ironic that in the Arabic language the appellant's name Asia means 'sinful,'" the judges wrote, according to USA Today. "But in the circumstances of the present case she appears to be a person, in the words of Shakespeare's King Lear, 'more sinned against than sinning.'"
Chief Justice Nisar is also reported to have said that tolerance is a "basic principle" of Islam.
The Pakistan People's Party cheered the court's ruling.
"Landmark judgement by Supreme Court to acquit #AasiaBibi today," People's Party leader Sherry Rehman wrote on Twitter. "False accusers took half her life away. Now the state must protect all those who stand for the rule of law and justice. We have all been witness to the havoc mobs have wreaked to red lines before."
Pakistan ranks as the fifth worst nation in the world when it comes to Christian persecution, according to Open Doors USA.
Some have voiced concern that Bibi's life and the Pakistani Christian community could be in danger upon release.
In a statement Wednesday, Open Doors USA CEO David Curry said that the Pakistan government should be sure to "beef up" security to protect Pakistan's Christian community following Bibi's release.
"As this verdict is released, it is imperative that the government of Pakistan and its Supreme Court be on alert to protect against violence threatened by [TLP founder] Khadim Hussain Rizvi and his followers," Curry said. "We call upon law enforcement agencies to beef up security and deploy military troops as needed to safeguard the lives and property of all religious minorities. Now is the time for Pakistan to send a message that the hate speech and threatening actions of Tehreek-e-Labbaik Pakistan and all similar extremist groups will not be tolerated. Religion should never be used as a tool to promote violence in society."