Astronaut Took Communion, Read From Gospel of John on Moon 48 Years Ago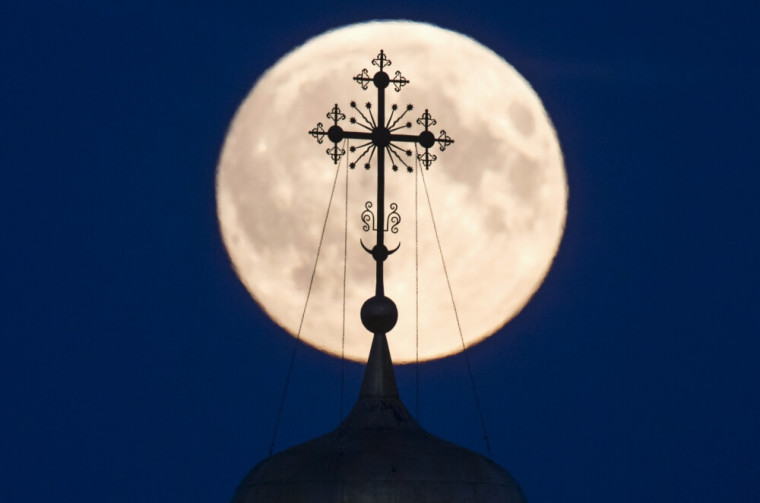 An American astronaut took Holy Communion and read from the Gospel of John on the surface of the moon 48 years ago this week.
Buzz Aldrin, the second man to ever walk on the moon after Neil Armstrong, posted on Twitter Tuesday the famous picture that Armstrong — since he was carrying the 75 mm camera — took of him as well of other photos of his time on the moon.
When Neil took this pic of me it was very spontaneous. He said "stop right there" & I turned. You can see the motion of the strap #Apollo11pic.twitter.com/EzTGoPj2VO

— Buzz Aldrin (@TheRealBuzz) July 20, 2017
Aldrin explained of the famous photo: "When Neil took this pic of me it was very spontaneous. He said 'stop right there' and I turned. You can see the motion of the strap #Apollo11"
The three-person Apollo 11 crew landed on the moon on July 20, 1969.
Author and radio host Eric Metaxas retweeted an article from his personal blog this week noting that during this time in Aldrin's life he was an elder at his Presbyterian Church in Texas, and knew that he would be doing something unprecedented in human history, and that he felt he should mark the occasion somehow, and solicited help from his pastor.
His pastor consecrated a communion wafer and a small vial of communion wine. And Aldrin took them with him to the moon.
After he and Armstrong had been on the lunar surface a few minutes, Aldrin said the following to the public, who were watching 250,000 miles away:
"I'd like to take this opportunity to ask every person listening in, whoever and wherever they may be, to pause for a moment and contemplate the events of the past few hours and to give thanks in his or her own way."
Aldrin then turned off radio communication.
"I poured the wine into the chalice our church had given me. In the one-sixth gravity of the moon, the wine slowly curled and gracefully came up the side of the cup," he recounted.
Then he read John 15:5: "I am the vine, you are the branches. Whosoever abides in me will bring forth much fruit. Apart from me you can do nothing."
"I had intended to read my communion passage back to Earth, but at the last minute [they] had requested that I not do this. NASA was already embroiled in a legal battle with Madelyn Murray O'Hare, the celebrated opponent of religion, over the Apollo 8 crew reading from Genesis while orbiting the moon at Christmas," Aldrin said.
As he thanked God, he noted that it was interesting for him to realize that "the very first liquid ever poured on the moon, and the very first food eaten there, were the communion elements."