Bill Nye Warns Americans Believing in Creationism Are Stifling Innovation
Scientist Bill Nye, responding to criticism from creationist organizations of his opinion that children should only be taught evolution in schools, has said he also believes that the innovative process of America is threatened by a belief in creation.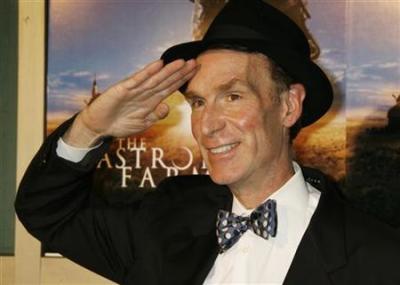 "If we raise a generation of students who don't believe in the process of science, who think everything that we've come to know about nature and the universe can be dismissed by a few sentences translated into English from some ancient text, you're not going to continue to innovate," Nye said in a recent interview with The Associated Press.
"The Science Guy," which Nye is better known as due to his 90s TV show, shared his views on Aug. 23 video titled "Bill Nye: Creationism Is Not Appropriate For Children," in which he defends the scientific theory of evolution as opposed to the belief of some Christians, who hold a literal interpretation of the Bible, that the Earth is only a few thousand years old. This led to some Christian groups, such as Answers in Genesis, to claim that Nye is misguided and that the world was created exactly the way it is described in the Bible.
"As you add up all of the dates, and accepting that Jesus Christ, the Son of God, came to Earth almost 2,000 years ago, we come to the conclusion that the creation of the Earth and animals (including the dinosaurs) occurred only thousands of years ago (perhaps only 6,000), not millions of years," said Ken Ham, President and CEO of Answers in Genesis.
"The Bible tells us that God created all of the land animals on the sixth day of creation. As dinosaurs were land animals, they must have been made on this day, alongside Adam and Eve, who were also created on Day Six (Genesis 1:24–31)," he added.
Responding to these comments, Nye, 56, said that it was hard to believe that such organizations persist in arguing for theories that fly in the face of accepted scientific theories.
"The Earth is not 6,000 or 10,000 years old. It's not. And if that conflicts with your beliefs, I strongly feel you should question your beliefs," the mechanical engineer commented.
"What I find troubling, when you listen to these people ... once in a while I get the impression that they're not kidding," he added.
Nye also previously said that creationists live in a "fantastically complicated world," but said that his video was not meant to attack religion.
"You can believe what you want religiously. Religion is one thing, but science, provable science is something else. My concern is you don't want people growing up not believing in radioactivity, not believing in geology and deep time," Nye said on "CBS This Morning."
"[…] I'm not attacking anybody's religion, but science, if you go to a museum and you see fossil dinosaur bones, they came from somewhere, and we have by diligent investigation have determined that the earth is 4.54 billion years old. The sun is a star, like all the other stars you see in the sky, and we are made of the same stuff. This is wonderful! This is fantastic discoveries that fill me with reverence, make me excited," the scientist added.
Nye's video has since gone viral on YouTube and has over 4.6 million views, while a response posted Aug. 29 by Dr. David Menton and Dr. Georgia Purdom of the Creation Museum addressing what they find as faults in Nye's argument currently has little over 155,000 views.
"The Science Guy" has also been critical of efforts in America by lawyers and school boards to try and present biblical narratives as an alternative to science and the theory of evolution, such as laws passed in Tennessee and Louisiana that allows creationism to be taught alongside evolution.
Still, a June 2012 Gallup Poll found that 46 percent of Americans believe that God created humans in their present form about 10,000 years ago, with 15 percent believing in evolution without the presence of God, and a third maintaining that evolution was a process guided by God.
Bill Nye: Creationism Is Not Appropriate For Children