Billy Graham's Granddaughter Accuses Evangelicals of Making God in Their Own 'Ivory Image'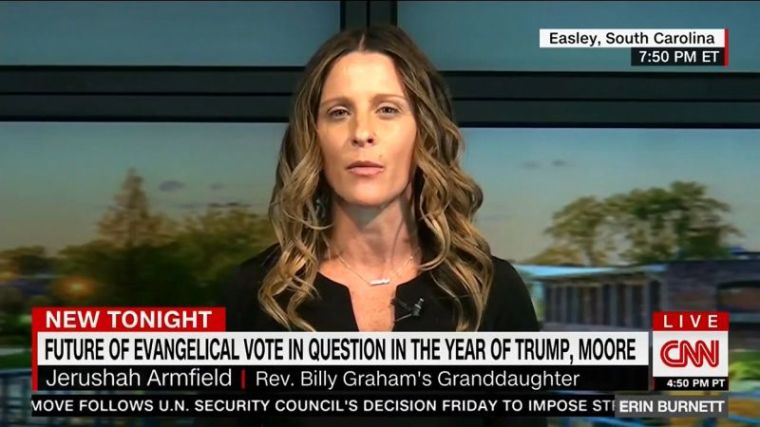 Jerushah Armfield, a granddaughter of Billy Graham's, who died last week, has accused evangelicals of making God in their own "ivory image," and losing the moral and spiritual authority in the United States.
"They see that all you're really interested in doing is making a God in your own ivory image and demanding that the world bow down to it," Armfield, who has criticized evangelicals on a number of occasions in the past, posted on Twitter Monday, reiterating comments made by Pastor John Pavlovitz of North Raleigh Community Church Downtown in Wake Forest, North Carolina.
"You've lost any moral high ground or spiritual authority with a generation. You've lost the plot," she added.
Armfield's statement echoes an article about evangelicals that she linked to by Pavlovitz — who advocates for same-sex marriage, transgender issues and is opposed to state bathroom bills barring men who identify as female from entering women's bathrooms — on his website in January.
In it, Pavlovitz challenges believers for supporting President Donald Trump despite the many accusations of moral failings surrounding him, such as adultery.
Pavlovitz argues that the reason people have had it with white evangelicals is because of their "hypocrisy, inconsistency, incredibly selective mercy," and "thinly veiled supremacy."
"For eight years they watched you relentlessly demonize a black president; a man faithfully married for 26 years; a doting father and husband without a hint of moral scandal or the slightest whiff of infidelity," the pastor and author said, referring to former President Barack Obama.
"They watched you deny his personal faith convictions, argue his birthplace, and assail his character — all without cause or evidence. They saw you brandish Scriptures to malign him and use the laziest of racial stereotypes in criticizing him," he argued.
Franklin Graham, president of the Billy Graham Evangelistic Association, and uncle of Armfield, was challenged in January on the same point in an interview with CNN's Don Lemon.
Graham was asked to explain why he and other evangelicals never appreciated Obama despite him being an exemplary family man.
The evangelist clarified that it was Obama's stance on moral issues, such as his support for same-sex marriage and extending abortion coverage, which was problematic for many believers.
"I appreciate him," Graham said of Obama.
"I just could not support him on certain moral issues, of course same-sex marriage, abortion, these are things I could not support him on, and as a result of that, I wasn't very close to him," he added.
Pavlovitz's post condemned evangelicals for embracing Trump despite him being "so riddled with depravity, so littered with extramarital affairs, so unapologetically vile, with such a vast resume of moral filth — that the mind boggles."
"With him, you suddenly find religion. With him, you're now willing to offer full absolution. With him, all is forgiven without repentance or admission," he added. "With him you're suddenly able to see some invisible, deeply buried heart. With him, sin has become unimportant, compassion no longer a requirement. With him, you see only Providence."
Hunter Baker, J.D., Ph.D., an associate professor of political science at Union University, recently wrote in an op-ed for The Christian Post that it is "inappropriate and wrong-headed to treat one's evangelicalism as some kind of personal referendum on the quality of the company one is keeping by being a member of this rather large group," however.
"An evangelical is not a person who votes for a particular political party, who interprets social justice in a specific way, who breaks down a police shooting along certain lines, who is more open or closed on immigration, and/or who has a higher or lower desire for environmental regulation," Baker argued.
"Those are all things that evangelicals can argue about. We are seeking to be faithful to scripture, to listen to the Holy Spirit, and to see the lordship of Christ fully vindicated in our lives."