Billy Graham's Granddaughter Slams 'Hypocritical' Evangelicals, Franklin Graham for Praising Trump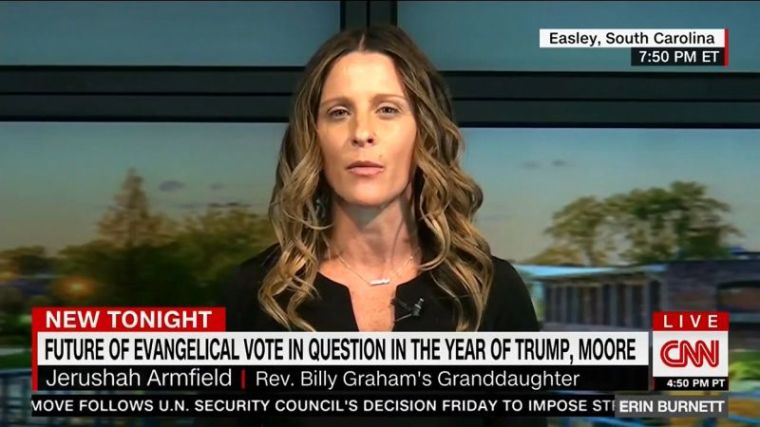 Jerushah Armfield, the granddaughter of famous evangelist Billy Graham, has said that her uncle Franklin Graham should cut down his praise for President Donald Trump, whom she argued has not shown himself to be a Christian in his words and deeds.
"I think my uncle is an incredible — he has an incredible humanitarian ministry that's been on the front lines often before a lot of ministries have been there," Armfield told CNN's Pamela Brown in an interview posted on Tuesday.
"I think he probably needs to stick to doing that. I think he believes he's speaking to a larger audience than he is. I think the audience he was once speaking to is starting to migrate to a little more progressive open mindedness," she added.
Armfield took issue with the narrative around American evangelicals and the way, she claimed, that many seem to have compromised on personal morals in order to support Trump and other controversial figures, such as former Alabama candidate for U.S. Senate Roy Moore.
She noted that the term "evangelical" was meant to distance believers from fundamentalists, but has "started to really represent, actually, a branch of Christians that seemed to be a little more conservative and a little bit more hypocritical, a little bit more willing to compromise on the personal morals of a candidate in lieu of what politically they could gain for their party."
Billy Graham's granddaughter, who is an author and pastor's wife in South Carolina, also dismissed Trump's suggestions that there has been a "war on Christmas."
What is more, she argued that the president "has not shown" himself to be a Christian.
"My Jesus that I follow was really somebody who fought for the outliers, and I think that Trump has actually done the opposite in kind of ostracizing them," she asserted.
Armfield has criticized her uncle for supporting Trump in the past as well, and in January told The Washington Post that Franklin Graham's suggestion that Trump is an ambassador for Jesus "diminishes not only my Jesus but all he stood for and came to Earth to fight against."
She positioned at the time that Trump "encouraged racism, sexism and intolerance, exactly what Jesus taught against."
Graham, who urged Christians to vote based on their values in the 2016 election, has heaped great praise on the president.
"Never in my lifetime have we had a president willing to take a strong, outspoken stand for the Christian faith like President Donald J. Trump has," he wrote in a Facebook post earlier in December.
"Whether you are Protestant, evangelical, Orthodox, Catholic — all Christians need to get behind him with our prayers."
When Trump invited reporters to stay for prayer at a cabinet meeting earlier this month, Franklin Graham declared that the president "recognizes the value of prayer."
"God hears prayer, and His Word tells us to pray for those in authority. Let's pray together for our president, Vice President Mike Pence, and your representatives in Congress as they have so many key issues before them," he urged at the time.
Billy Graham's large family, including his many grandsons and granddaughters, have sometimes offered contrasting opinions when it comes to Trump, politics, and what it means to be an evangelical.
Boz Tchividjian, executive director of Godly Response to Abuse in the Christian Environment, and one of Billy Graham's grandsons, said in November that he no longer identifies himself with the evangelical term.
"Words matter," Tchividjian said. "And evangelical isn't like Baptist or Episcopalian, which can be clearly defined. The minute you use that term to someone, "you're defined by how they interpret it."
Tchividjian explained that one of his main concerns is that some people automatically assume every evangelical is a Trump supporter, while others could think they are anti-Trump.
"We're looking at faith through a political lens, and that's unfortunate and dangerous," he said.