Billy Graham: Angels Were Not Wrong in Saying Jesus Will Bring Peace, Despite Today's Chaotic World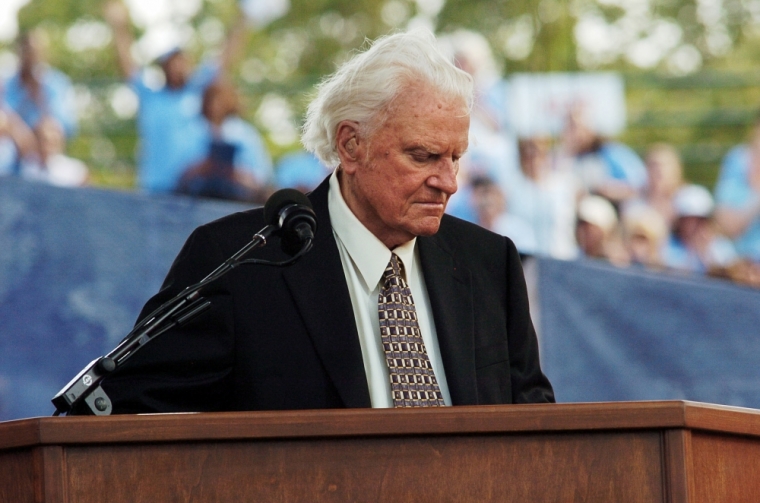 Evangelist Billy Graham has said that despite the state of the chaotic world 2,000 years after the birth of Jesus Christ, the angels were not wrong to say that He would bring peace.
Graham answered a reader's question on his website Tuesday regarding the promise of peace angels gave the shepherds as found in the Gospel of Luke on the first Christmas night outside Bethlehem, by declaring that their message still rings true across the ages.
The passage in Luke 2:14 reads: "Glory to God in the highest Heaven, and on Earth peace to those on whom His favor rests."
The world famous North Carolina preacher said that the message is true, "because when we commit our lives to Jesus Christ and become His followers, He gives us peace — peace with God, and peace in our souls."
"You see, by nature we are at war, not only with each other, but with God — and even with ourselves. The Bible says, 'What causes fights and quarrels among you? Don't they come from your desires that battle within you?' (James 4:1)," he continued.
"But Jesus Christ came to change all this. By His death and resurrection, He destroyed evil's final power over us — and once we understand this great truth, our lives will never be the same."
Graham wrote that "someday Christ will come again, and even the evils we still see in the world around us will be destroyed. Yes, someday the angels' promise on that first Christmas will be fulfilled — totally and completely!"
Christian columnist Susan Stamper Brown wrote in an op-ed in The Christian Post in July 2016 that given the horrific wars and terrorist attacks gripping the world today, where Christians and many children are killed across the Middle East and other places, one could lose hope for peace on Earth.
Brown referred to a poem, "Christmas Bells," written by Henry Wadsworth Longfellow on Christmas Day in 1863 during the Civil War after his wife died, which reflected on the grim circumstances at the time:
"Then from each black accursed mouth, the cannon thundered in the South, and with the sound the carols drowned of peace on Earth, good-will to men. ... And in despair, I bowed my head; 'There is no peace on Earth,' I said; 'For hate is strong, and mocks the song of peace on Earth, good-will to men."
Brown said Longfellow's poem did not end there, however, and Christians, too, should not lose hope despite current events.
"Be encouraged, because the One that Longfellow knew who 'is not dead nor doth he sleep' will one day cause the 'wrong to fail' and 'the right to prevail, with peace on Earth, good-will to men,'" she said.
Graham, meanwhile, celebrated his 99th birthday in November, and in a video urged people to seek a close relationship with God and read the Bible every day.
The evangelist said that he has been praying for a "spiritual awakening," but noted that that can only happen if individuals "surrender their lives to Jesus Christ."