Thousands Sign Petition Seeking to Ban Franklin Graham From Entering the UK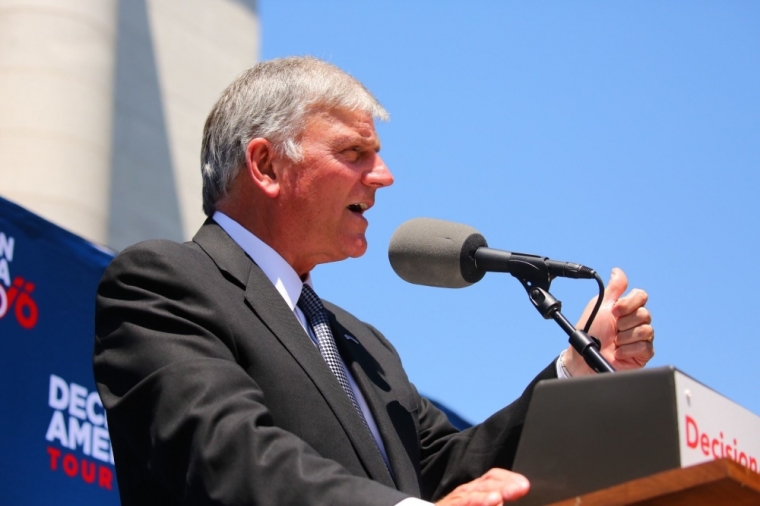 Members of the U.K. parliament and over 6,000 people have signed an online petition calling for leading American evangelist Franklin Graham to be refused entry into the country ahead of his scheduled trip to Blackpool next September.
Over 6,100 people have signed onto a Change.org petition calling for Graham, the son of legendary evangelist Billy Graham, to be "banned" from entering the U.K. over his beliefs on LGBT issues and Islam, and fear he will do nothing but "promote prejudice and hatred."
The movement to refuse Graham a visa has picked up some steam as British news outlets are reporting that a number of parliament members, one high-ranking government official and even some Blackpool clergy favor refusing the 65-year-old Graham a visa to enter the country so that he can't speak at the Lancashire Festival of Hope in September 2018.
Gordon Marsden, a member of Parliament who represents Blackpool, has called on the home secretary to refuse Graham entry into the U.K. and argued that Graham might have violated the country's rules on hate speech, The Guardian reports.
"I think frankly the evidence is piling up that his visit to the U.K. ... would not be a good thing and not probably in my view a very Christian thing," Marsden told BBC Radio Lancashire, claiming that Graham's beliefs were "incompatible with what Jesus said in the Bible."
Afzal Khan, the member of Parliament for Manchester Gorton, told The Guardian that Graham's views "are not welcome."
"I will make representation to the home secretary if it looks like he is intent on coming," Khan said.
Graham is a conservative evangelical who is not afraid to go on social media and voice his disagreement with the political left when it comes to LGBT issues and abortion. He has also been accused of "islamophobia" for his controversial remarks about Islam even though his organization (Samaritan's Purse) has cared for Muslims (even injured Islamic State fighters) in war-ravaged places like Iraq.
"Franklin Graham is currently traveling in Vietnam, sharing the same message of hope he has been invited to share next year in England," a BGEA representative said in a statement provided to The Christian Post on Friday. "The Billy Graham Evangelistic Association is working in partnership with local churches to hold an event next year in Blackpool. It will be a positive and encouraging event with music and a message from Franklin Graham about the hope that can be found through a relationship with Jesus Christ. It will be free and everyone is invited to attend."
As The Guardian reports that the Blackpool BGEA event is being supported by a number of Anglican clergy, two Blackpool pastors wrote a letter on Sunday to Bishop of Blackburn Julian Henderson and his senior staff asking for the bishop to distance himself from Graham.
"Bishop Julian and fellow members of the senior staff, are you going to remain silent?" the letter asks. "We call upon you together or severally to at least distance yourselves from Franklin Graham and his views, and to make it clear that the invitation to Franklin Graham to come to Blackpool is 'Not in your name.' How else shall we be able to look our Muslim brothers and sisters in the eye?"