Bishop Apologizes for Groping Ariana Grande at Aretha Franklin's Funeral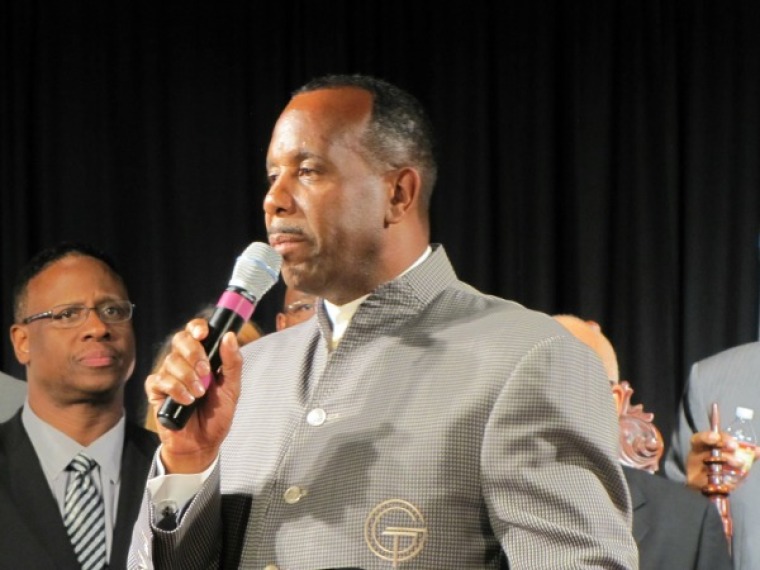 The bishop who presided over singer Aretha Franklin's funeral said he was sorry for inappropriately touching pop artist Ariana Grande during the service.
Clips of the footage and photos of the moment where Bishop Charles H. Ellis III went viral in recent days, generating an outcry. After greeting Grande on stage following her rendition of "(You Make Me Feel Like) A Natural Woman" during the Friday service at Greater Grace Temple in Detroit, the footage and photos showed that as Ellis had his arm around Grande, his hand was positioned close to her breast with his fingers visibly pressing down. Grande's facial expressions indicated she was clearly uncomfortable as it was happening.
Ellis told the Associated Press Friday in an interview that he regretted what happened.
"It would never be my intention to touch any woman's breast ... I don't know I guess I put my arm around her," Ellis said.
"Maybe I crossed the border, maybe I was too friendly or familiar but again, I apologize."
He added that he gave each one of the performers a hug during the service.
"I hug all the female artists and the male artists," Ellis said. "Everybody that was up, I shook their hands and hugged them. That's what we are all about in the church. We are all about love."
"The last thing I want to do is to be a distraction to this day. This is all about Aretha Franklin," Ellis said.
Many Twitter users were appalled and accused him of groping, and posted images and short clips of the moment, zooming in on the moment where Ellis had his arm around Grande, with the hashtag #RespectAriana. Several were incredulous that he had done this in the era of #metoo and so publicly as the world watched.
Kelly Ellis, a software engineer, was unmoved by the bishop's words.
"The most important requirement of an apology is accepting responsibility for what you did wrong, and owning up to it. This isn't an apology," she tweeted Sunday.
During the funeral Ellis also cracked a joke about Grande's last name, saying that when he saw her name on the program he thought it was an new Taco Bell menu item.
"I personally and sincerely apologize to Ariana and to her fans and to the whole Hispanic community," Ellis said of his joke.
"When you're doing a program for nine hours you try to keep it lively, you try to insert some jokes here and there."
Grande also came under criticism by some who thought her decision to wear a short black dress was inappropriate for a funeral service in a church. And former President Bill Clinton was criticized for ogling Grande as he sat behind her while she sang. 
Franklin's funeral lasted over eight hours.