Black Pastor Says Democrats Want to 'Persecute Christians Into Silence and Submission'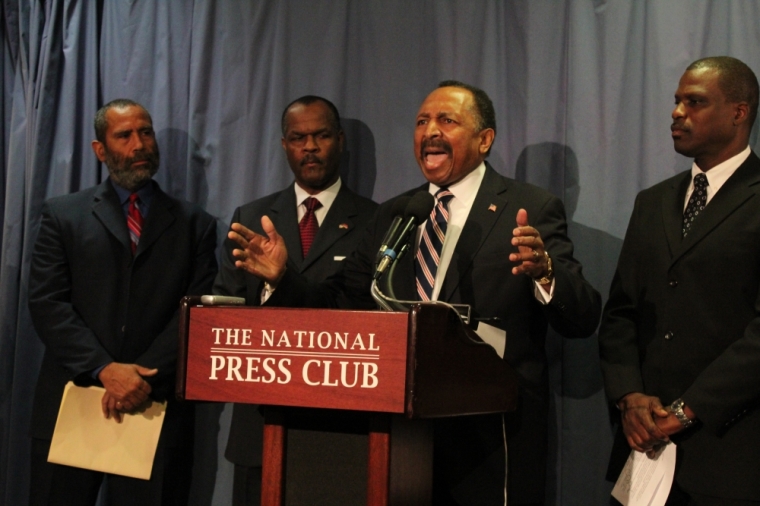 The Democrat Party is becoming overrun with socialists who want to persecute Christians, a black pastor and political activist claims. 
African-American Virginia bishop and conservative political activist E.W. Jackson has issued a solemn warning about the Democratic Party's embrace of socialism and has launched what he is calling the 2018 Campaign to Awaken the Church.
Jackson, an outspoken preacher who ran unsuccessfully for the Republican nomination for Virginia's U.S. Senate seat this year, has issued a call to all Christians to vote in the 2018 primary elections this November in order to thwart off an attempt by the "socialist" Democratic Party to retake control of Congress and try to impeach President Donald Trump.
"Please hear me well. We are in the greatest spiritual battle for the future of our country since the Civil War," Jackson said in a recent video announcing the campaign, adding that polling shows that people between the ages of 18 to 29 are more likely to view socialism as positive than older generations.
"Socialism is Marxist ideology that denies the existence of God and places reliance on government. It has been responsible for mass starvation, torture, murder and enslavement. It allows no freedom of speech or thought. Christians are its primary enemy because we believe in freedom and we worship the only true and living God. Yet, self-described socialists are getting elected in our country," he said.
Jackson is the founder of the non-profit STAND (Staying True to America's National Destiny) and the head pastor of Exodus Faith Ministries in Chesapeake, Virginia. STAND was founded in 2009 six months after President Barack Obama took office. It describes itself as a "a national organization dedicated to preserving life, the traditional family and our Judeo-Christian history and values as the Foundation of our Constitution and culture."
In his video announcement published last week, the 66-year-old Jackson explained how the Democratic Party is increasingly supporting and nominating self-proclaimed socialist candidates.
"We have had socialists elected to legislature in Virginia. A socialist was just nominated for Congress in New York — not to mention that without [2016 Democratic presidential nominee] Hillary [Clinton] cheating, the Democrat Party would probably have nominated a socialist for president," Jackson contended. "It is now fair to say that the Democrat Party has become a socialist party."
According to Jackson, the Democratic Party seeks to "limit free speech," "abolish ICE," establish open borders, establish "socialized medicine" and establish a "national guaranteed income." As well, Jackson said, the Democratic Party has become "anti-American, anti-freedom and anti-Christian."
"If they could, they would persecute followers of Jesus Christ into silence and submission," he argued. "Unless the Church stands up, America as we know it is gone."
Jackson chided the Church, saying that it took a "period of abdicating our spiritual responsibility" for the nation to reach this point. He stressed that in order to restore the culture, Christians must turn out to vote in the 2018 midterm elections to support conservative candidates and the agenda of President Trump.
"You don't have to agree with every policy that he puts forward or every statement he makes but he is the best political defense against the march of Marxism and George Soros. He stands up for America. He stands up for God and he stands up for Christians and the Church," Jackson stressed. "If the Left wins control of Congress, they will impeach the president. Doing so would precipitate a constitutional crisis and could destabilize our society."
Jackson reiterated that if Democrats take control of Congress and are able to impeach Trump that "all Hell could break loose."
"Unless the Christian Church — the body of Christ — stands up, the Left will succeed in completing the fundamental transformation of America," he warned. "Every Christian must register to vote. Ask every friend and fellow Church member, 'Are you registered? Are you going to vote in November.' If you get anything but an enthusiastic yes, show them this video and then follow up to make sure they register and vote."
In an update on the STAND website, Jackson explained that he recently took a trip to the battleground state of Ohio with Pastor JC Church, the senior pastor of the Ohio-based Victory in Truth Ministries. There, over 100 pastors were asked to mobilize for the upcoming elections.
Jackson plans to release another video this week that he says will be more controversial than his last because it will deal with the issue of the racial divide. The video will be released under the heading "The Truth In Black and White."
In the past, Jackson has spoken out against the Black Lives Matter Movement. In December 2015, he and other black pastors affiliated with STAND held a press conference at the National Press Club in Washington, D.C. and declared that Black Lives Matter movement is "demonic" and "shameful."
Jackson has also been critical of Planned Parenthood and other abortion organizations for the impact they have had on African-American communities. Jackson joined other black pastors in a 2015 protest calling for the removal of Planned Parenthood founder Margaret Sanger's bust from the National Portrait Gallery.
Jackson also spoke out in disgust last year when there was much talk about National Football League players protesting by kneeling during the playing of the Star Spangled Banner at football games.
Jackson has made no secrets about his support for the president. He was one of the over 900 evangelical leaders who participated in a large meeting with Trump in June 2016 to galvanize evangelical support behind the then-Republican nominee. Jackson admitted at the time that his "attitude" on Trump changed because of the meeting.