Calvin and Hobbes Auction Could See Rare Strip Sell for More Than $100,000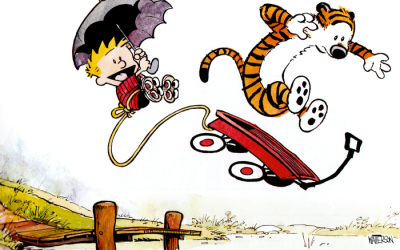 A Calvin and Hobbes auction will see an original art piece by creator Bill Watterson from a 1986 Calvin and Hobbes Sunday page be sold - likely for a huge amount.
The piece is extremely rare as there are very few original Calvin and Hobbes strips in circulation.
It is well known in the auction business that Watterson's work tends to get auction bidders hot under the collar, and this auction will likely be no different.
Watterson's oil painting contribution to the auction benefiting Cul de Sac creator Richard Thompson sold at auction for $13,000 earlier this year, and another watercolor calendar piece sold for an astonishing $107,550 earlier this year in just February.
The new piece of artwork will have its auction open in November, according to Comics Alliance. The artwork was originally published in a 1989-90 calendar.
Bill Watterson is one of the most-loved comic creators of all time, and his Calvin and Hobbes comics are known the world over. He ended the strip in the mid-1990's and since then original strips have been rare and hard to come by.
In 2011, Ohio-based Watterson released his first widely public art in more than 15 years to offer as a contribution to Team Cul de Sac. It generated widespread interest, and that interest will surely now relay onto this current auction.
Watterson drew his first cartoon at age eight, and spent a lot of his time in childhood alone, drawing and cartooning. In school he drew cartoons for his high school newspaper and yearbook.
He has also cited comic strips like Pogo, Krazy Kat, and Charles Schulz' Peanuts was influencing his desire to become a professional cartoonist.
His parents recall him as a very quiet and unassuming child, who would spend hours drawing in his room. His father James G. Watterson said about him: "He was a conservative child, not that he was unimaginative, because of course he was. But not in a fantasy way. He and his brother (Tom) would make time-lapse movies and that certainly showed a certain amount of imagination. And he would draw his characters. But he was nothing like Calvin. He didn't have an imaginary friend like Hobbes, and he wasn't a Dennis the Menace."
Nevin Martell: Looking for Calvin and Hobbes