Charles Colson's 'My Final Word' Warns of 'Long Bloody Clash' in War Against Radical Islam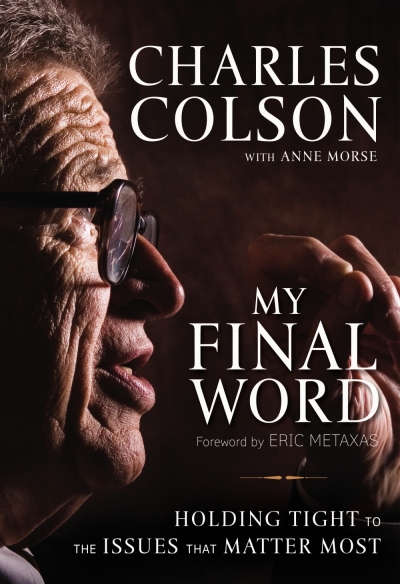 Imagine that a loved one dies, and years later you receive a letter they wrote before they passed. That's how writer Anne Morse describes My Final Word, the new book she co-authored posthumously with the late evangelical figure, radio commentator and former Nixon aide Charles Colson, which shares Colson's uncanny foresight and words of wisdom regarding many of today's critical issues — most notably religion.
The book is comprised of memos, or mini-essays, written by Colson that hadn't before been published or used in any formal capacity. "He used his memos as a sort of diary at times," Morse, a journalist and longtime writer for Colson, told The Christian Post. Colson would routinely dictate his thoughts using a voice recorder and later have them transcribed, she explained.
"He did a lot of dictating daily. We had thousands [of memos] to choose from." Morse told CP that those memos had never been turned into a script for BreakPoint, Colson's Christian worldview daily radio commentary, or used in his column for Christianity Today. Hence the impetus for the book.
"It's very fresh, it's like he's talking to you," Morse said about the book. "I could hear his voice in my head." And she would know that voice well — Morse spent nearly 18 years working with Colson on content for BreakPoint and Christianity Today.
To complete the book, one of Morse's tasks included categorizing Colson's memos and picking out the very best ones to include in the book — a process that took months. "We ended up with 12 chapters," she said.
In My Final Word, Colson's writings address a broad range of topics — from the Church, to bioethics, to crime and punishment. But his memos on religion are especially relevant today.
In his memo titled Attacks on Truth, written more than a decade ago in 2002, Colson talks about the suppression of religious expression and the increasing efforts aimed at " … preventing Christians from expressing truth claims in public."
The evangelical figure's decade-old musings on the prevention of the expression of truth claims in public became a reality for the small town of Hawkins, Texas, in June of this year when an 18-foot sign that read "Jesus Welcomes You to Hawkins," situated on city property, became the subject of local debate, as reported by The Christian Post.
The Freedom from Religion Foundation claimed that by placing the sign on city property it sent the message that the Hawkins government endorsed belief in a particular god, and that the government "prefers Christianity over other religions." The organization demanded that the sign be moved and threatened to sue the city if it was not. Many local residents approved of the sign. However, in an effort to avoid a costly legal battle, the city relocated it to private property.
In the memo Attacks on Truth, Morse explained how Colson spoke out against such attacks on public expressions of faith, and how he urged Christians " … to refuse to buckle under attempts to force them to keep silent about their beliefs — or worse, attempts to force them to deny those beliefs."