Texas Mayor Defends 'Jesus Welcomes You' Sign From America's Biggest Atheist Group, Believes He Can Win Lawsuit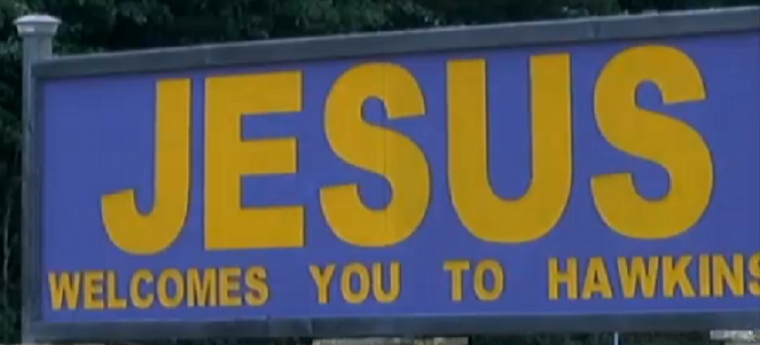 The Wisconsin-based atheist group, Freedom from Religion Foundation, claims a sign in Texas that reads "Jesus Welcomes You to Hawkins" is "inappropriate" and "unconstitutional" and vows to sue the town for its removal.
The FFRF, popular for scouring the country to find what it deems unconstitutional violations of the First Amendment's Establishment Clause, claims the sign delivers a message that it "prefers Christianity over other religions." They delivered a letter on June 1 to the town to represent a complaint from a local resident who's demanding the removal of the sign.
Mayor Will Rogers of Hawkins said the town might not have the money to fight the lawsuit but he believes they could win.
"That's not a church, we're not welcoming you to a particular church," declared Hawkins, "that sign says "Jesus welcomes you."'
The Supreme Court ruled in the 1989 case Allegan vs. ACLU that the "justices believe that government accommodation of, and acknowledgment of public support for, religion were permissible so long as the government was not providing direct benefits to religion or coercing of religious beliefs."
"To me and many others, Jesus is not a religion," said Hawkins, "Jesus is in every religion across the globe. He's in Islam, Buddhism, Hinduism. He represents love and kindness."
While Jesus is recognized as the son of God and second person of the Trinity in Christianity, other religions do recognize him and his teachings in varying and different capacities.
The 18-foot sign was created with private funds and placed on city property in 2011 through various community groups.
Many residents in the town overwhelmingly expressed support of the sign at a packed city meeting on Monday, but some expressed a desire to place the sign on private property to forego an expensive lawsuit.
According to KLTV in Tyler Texas, "One man, who identified himself as an atheist, said he had no problem with the sign as long as it stood on private property."
Another man blamed "Northern aggression" and one woman expressed at the meeting that removal of the sign will not end the controversy. "When is the day coming when they're gonna take it from our own property?"
At the city wide meeting, Rogers noted, "What violation is it for someone to welcome you into a town?
"If you don't believe that Jesus existed then he would be fiction," declared Rogers. "If he's fiction, and you want to remove his name from everything, then you have to remove every fiction name from across the country. That means we couldn't say 'Superman welcomes you to town.'"
KLTV is reporting that the sign will not be moved until a survey can be done to confirm it is currently on public property.
The FRFF website claims that, "The history of Western civilization shows us that most social and moral progress has been brought about by persons free from religion," and declare they work for "the cherished principle of separation of state and church."
The FFRF threatened a lawsuit against Clemson University and the University of Mississippi in 2014 because they felt the athletic departments at the schools were favoring Christianity over other religions. Clemson football coach Dabo Sweeney and Ole Miss football coach Hugh Freeze are both outspoken Christians.