Chinese Priest Shares Footage of Officials Tearing Down Church Crosses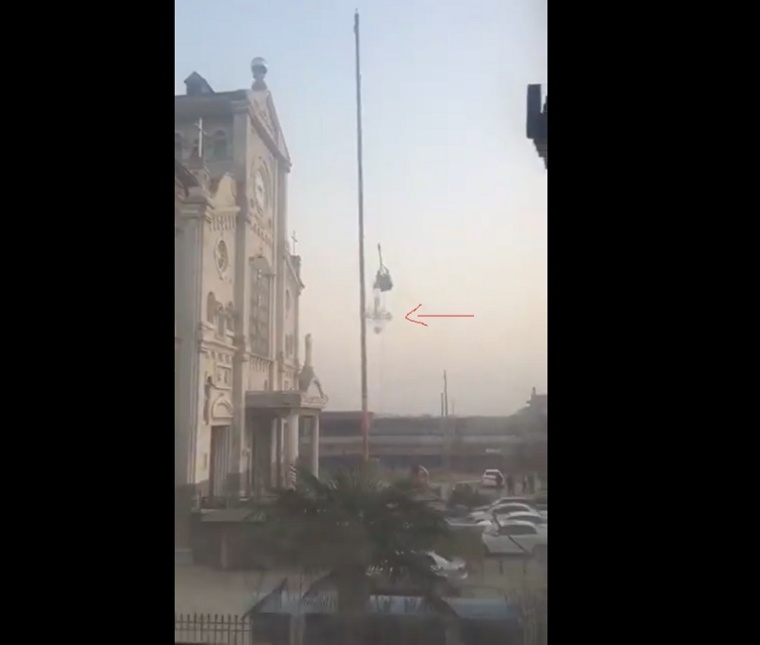 A Chinese priest has shared a video showing local officials tearing down crosses from a church during a major raid in Henan Province, where authorities locked out the priests and nuns.
International Christian Concern reported that the incident occurred at Shangqiu Catholic Church South Cathedral on Friday. Clergy first alerted police when an unidentified group stormed into the church and shut down the electrical power.
But when the police arrived, they took the priests away, confiscated their cell phones, and barred them and the nuns from entering or leaving the site.
The cathedral, which was sanctioned by the government, was subjected to five hours of occupation, during which crosses were removed from the building. Father Francis Liu shared a video on Twitter on Friday showing a crane taking down one large rooftop cross.
Persecution watchdog groups condemned the incident as a continuation of China's widespread crackdown on Christianity and forceful removal of crosses from churches around the country.
Hebei Priest Yang Jianwei said on Sunday that authorities came back later and replaced some of the crosses with smaller ones.
"They claim that the local authorities had a misunderstanding so they put the crosses back!" a source familiar with the incident told ICC.
According to Catholic news site ucanews.com, this was the first time a Catholic church had its crosses removed in Henan.
Of the six crosses removed, only three were replaced, ucanews.com reported. Moreover, the original central cross that was 3 meters tall was replaced by one half its size.
China Aid, a persecution watchdog group, condemned the government's "campaign of hatred against Christianity."
"This type of extreme act will not weaken the growth of Christianity in China, nor will it bring any positive impact to Xi [Jinpings]'s regime." 
ICC Regional Manager Gina Goh warned that religious freedom in China continues to erode.
"The crackdown on churches used to be targeted mostly at underground communities, but we are now seeing increasing assaults and harassment on state-sanctioned churches as well. Please pray for the Church in China to persevere despite growing persecution," Goh stated.
Thousands of other church crosses in China have been forcefully removed without ever being returned in recent years. China Aid argues that the Communist Party is concerned by the rapid rise of the Christian faith, which it sees as a challenge to its authority.
Concerns for Christians in China grew when it was announced that the government will be removing presidential term limits, which will allow Xi Jinping to stay in power indefinitely.
"Xi's first term was marked by a crackdown on religious groups with new regulations and restrictions," ICC noted.