Chinese Province Bans Christian Rooftop Crosses on Catholic and Protestant Churches, Has Forcefully Removed 400 Crosses in 1 Year
Christian Churches Seen as Threat to Communist Party as Local Authorities Arrest Pastors and Church Members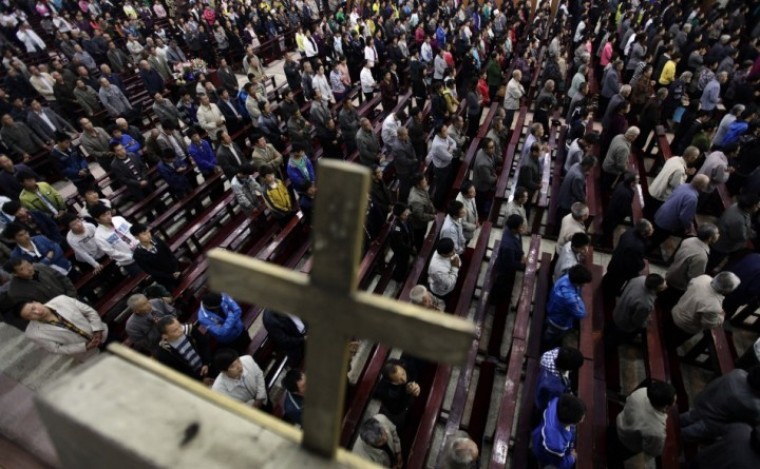 The Chinese province of Zhejiang is set to ban all rooftop crosses from Protestant and Catholic churches, and has already removed hundreds of such crosses despite mass protests from Christians.
"The authorities have attached great importance to this religious symbol," pastor Zheng Leguo from Zhejiang told The Associated Press. "This means no more prominent manifestation of Christianity in the public sphere."
While the draft for the ban is yet to be approved, authorities have removed nearly 400 crosses from the rooftops of churches since early 2014. Officials have claimed that these crosses violate government building codes, but the growing Christian community in China has said that it is being persecuted and is seen as a threat to the Communist Party.
Exact statistics of how many Christians there are in China are hard to come by, with estimates ranging from 23 million to as many as 100 million, AP noted. With the Communist Party boasting a membership of 85 million people, the rise of Christianity has prompted stricter government measures for believers and their houses of worship.
Officials have also arrested Christian pastors on a number of occasions, accused them of "disturbing public order" by gathering Christian crowds. Pastor Huang Yizi is one pastor who was arrested in August 2014 under such a charge, and threatened with seven years in prison for speaking out against the government's crackdown of churches.
In another major crackdown in September in the Guangdong province, nearly 100 Christians, including children, were arrested while they were attending a service at a house church.
"It is unbelievable that local authorities arrested over 100 church members, including children, in Foshan city. Even though most people have been released, the experience has been traumatizing," International Christian Concern Regional Manager for Southeast Asia Sooyoung Kim said at the time.
While the Chinese government allows for some Christian churches to operate under its guidelines, it has banned house churches and arrested underground church leaders.
Beijing authorities have also called Christian pastors and religious scholars into meetings to instruct them that the Christian faith must be free of foreign influence but "adapt to China," meaning to follow the rules of the Communist Party.
Zheng noted that the Communist Party has cracked down even harder on Christians in the past. He added that although the proposed ban on crosses is so far limited to one province, the measure represents "a restriction on the public space for Christianity."