Chinese Pastor Arrested During Government Crackdown 'Grateful to God' for Jail Opportunity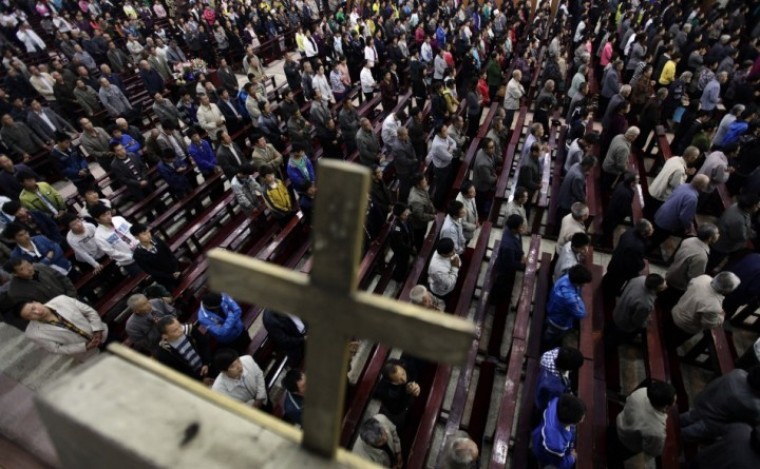 A Chinese pastor, one of several in recent months to be arrested in a massive government crackdown on Christians, said that he is "grateful" to God for giving him the opportunity to go to jail. Forty-year-old Huang Yizi is facing up to seven years in prison for speaking out against the government's demolitions of churches.
Huang was placed under arrest in August, The Telegraph reported on Monday, and was taken from his home in front of his wife and two children. He was charged with "gathering crowds to disturb social order."
A similar charge has been used to arrest other pastors, including Zhang Shaojie, in the wake of Chinese government officials ordering the demolition of a number of churches.
"He seems well. He is grateful that God has given him the chance to serve time in the detention centre," Beijing-based rights lawyer Zhang Kai said about Huang. The pastor is currently awaiting trial in the city of Wenzhou.
Zhang said that he believes his client is innocent of the wrongdoings he is accused of by the Chinese government.
"As a defense lawyer and judging from the evidence so far I don't think Huang's actions constituted any crime. Personally, I believe Huang's arrest is directly related to the general crackdown on churches in Zhejiang."
Huang had made a number of pointed remarks against the state, and had accused police forces of violently beating up members of a Wenzhou congregation that had been trying to protect a church's cross from demolition.
In one major crackdown in September, over 100 Christians, including children, were arrested in Foshan city in China's Guangdong Province. Close to 200 police officers were said to have stormed in during a service conducted in a house church, with worshipers calling it an effort to stop people from gathering and worshiping.
Members of the congregation revealed that the raid came without any warning, and that the police only left behind a notice explaining that people were arrested for an "illegal gathering."
"It is unbelievable that local authorities arrested over 100 church members, including children, in Foshan city. Even though most people have been released, the experience has been traumatizing," said ICC Regional Manager for Southeast Asia Sooyoung Kim at the time.
"ICC urges local authorities in Guangdong Province to respect its citizens' rights to religious freedom, that the government of China says are upheld, and free these innocent Christians as soon as possible."
Chinese human rights activist Chen Guangcheng suggested last week that the Chinese Communist Party is even more dangerous than terror group ISIS.
"I believe that we have underestimated the threat from the Communist regime like China. They are many, many times more dangerous than the terrorist groups out there. I believe the people will realize later this is true," Chen said, evoking other issues, such as the government's one-child policy that activists have said leads to forced abortions and other human rights abuses.