Christian Leaders, Home Church of Pastor Andrew Brunson Celebrate His Freedom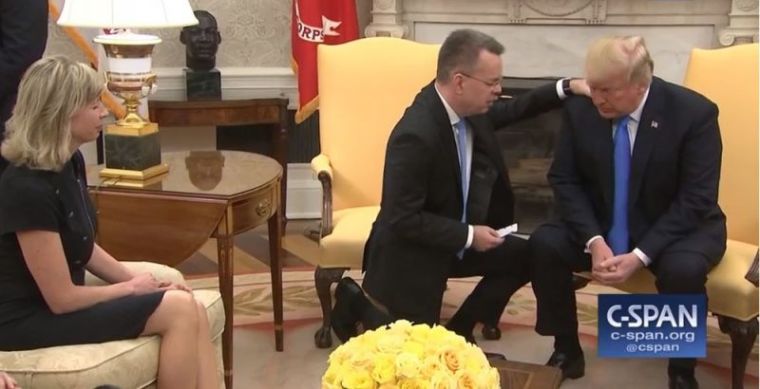 Christian leaders and the home church of Pastor Andrew Brunson are celebrating his return to the United States, saying the development is a hopeful signal for the persecuted and is another reason why evangelicals support Trump.
Brunson, a native of Montreat, North Carolina, spent the past two years in a Turkish prison on terrorism charges.
Christ Community Church, his home parish in nearby Black Mountain, gathered on Sunday for a service to celebrate his release.
A spokeswoman for the church said members and staff were "doing the happy dance and shouting hallelujah" on Friday upon hearing Brunson had been freed, according to the Asheville Citizen Times.
"Today's sermon highlighted being faithful ... and waiting for the Lord in difficult times," she said Sunday.
Brunson stopped by Washington, D.C., on his way home on Saturday and met with President Donald Trump in the Oval Office and prayed for him.
"Lord God, I ask that you pour out your Holy Spirit on President Trump, that you give him supernatural wisdom to accomplish all the plans you have for this country and for him. I ask that you give him wisdom on how to lead this country into righteousness. I ask that you give him perseverance and endurance and courage to stand for truth. I ask that you protect him from slander from enemies, from those who would undermine. I ask that you make him a great leader for this country. Fill him with your wisdom and strength and perseverance, and we bless him. May he be a great blessing to our country," he prayed.
Brunson's wife, Norine, who was there with him, added: "I pray that the spirit of the Lord rest on the president. The spirit of wisdom and understanding, the spirit counsel and might, spirit of knowledge and fear of the Lord. Amen."
Brunson and his wife had been pastoring a Protestant congregation in Izmir, Turkey, for approximately 25 years.
"This sends a message of hope to the persecuted around the world," said Tony Perkins, president of the Washington, D.C.-based Family Research Council, speaking of Brunson's release in a Sunday Fox News interview.
Perkins was present in Turkey for Brunson's hearing last week as he is a member of the United States Commission on International Religious Freedom. He described the experience as "surreal," noting that it was "touch-and-go" at times when at one point a lengthy indictment was read aloud recommending that Brunson be placed back in prison. 
A Turkish court convicted Brunson of terror charges and sentenced him to three years and one month in prison but released him due to the time he already served and for good behavior. 
Brunson's release has been a significant priority for many government officials and American Christian leaders since he was first arrested in July 2016. 
Writing in USA Today Monday, Christian Broadcasting Network anchor David Brody explained that Brunson's return was yet another reason why many evangelical Christians continue to back Trump, comparing him to Queen Esther who was "an unlikely hero, put in a place of influence, 'for such a time as this.'"
"Securing Pastor Brunson's release from Turkey is just the latest example of Trump's commitment. Picking his Supreme Court justices is the generational cornerstone of a much larger change. In the evangelical world, whether it's moving the U.S. Embassy to Jerusalem, actively upholding religious liberty, eagerly encouraging pro-life policies, or standing strong for the Judeo-Christian values that made America the best country in the world, Trump is seen as an instrument in a much needed American course correction," Brody said.