Christian Leaders Issue Travel Warning: 'If Turkey Isn't Safe for Brunson, It Isn't Safe for Us'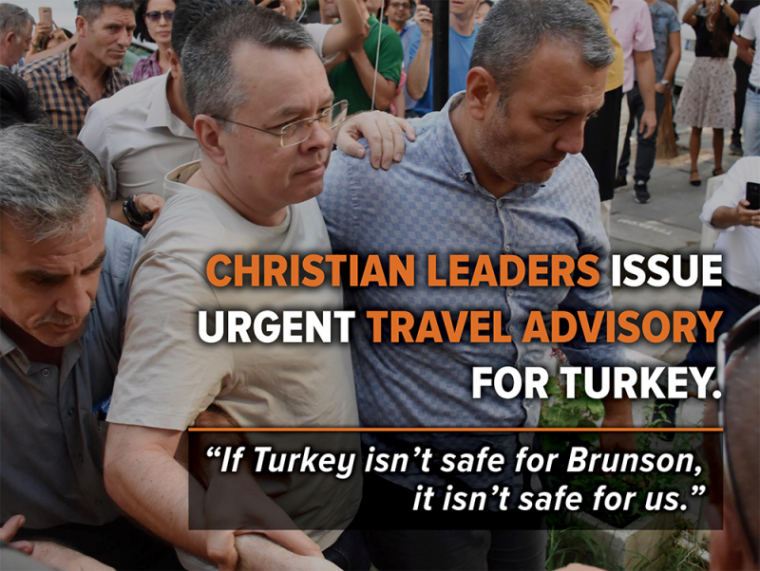 Evangelical Christian leaders are backing the Trump administration's threat of sanctions against Turkey and urging Christians not to travel to that country, saying it's unsafe for all if it isn't safe for U.S. Pastor Andrew Brunson, who was imprisoned for nearly 21 months on false charges of terror and espionage and is now under house arrest.
My Faith Votes — an organization that urged some of the 25 million evangelicals registered to vote to not sit out another election and get out and vote in 2016 — is "encouraging its friends and supporters to boycott travel to Turkey and Turkish Airlines until Pastor Andrew Brunson is freed," the group says on its Facebook page.
"We hope pastors nationwide will join us in urging their congregations to boycott Turkey. Now is the time to stand in solidarity with this American citizen who has been unjustly treated by the Turkish government."
"If Turkey isn't safe for Brunson, it isn't safe for us," one of President Donald Trump's informal evangelical advisers, Johnnie Moore, told NPR in a statement, days after Brunson was placed under house arrest and released from prison.
The Turkish government claims that Brunson is connected to the Islamic Gulen movement, which it accuses of being involved in a July 2016 coup attempt against the Erdoğan administration. Brunson is also accused of being involved with the Kurdistan Workers Party.
Brunson, a North Carolina native who has led a small congregation in Izmir for the past two decades, has denied all the charges. Rights advocates believe that Brunson was arrested in an attempt to force the U.S. government to extradite Islamic cleric Fethullah Gulen, who resides in Pennsylvania.
On Thursday, Vice President Mike Pence said, "If Turkey does not take immediate action to free this innocent man of faith and send him home to America, the United States will impose significant sanctions on Turkey until Pastor Andrew Brunson is free."
President Trump also tweeted: "The United States will impose large sanctions on Turkey for their long time detainment of Pastor Andrew Brunson, a great Christian, family man and wonderful human being. He is suffering greatly. This innocent man of faith should be released immediately!"
Moore explains why such an action is needed. "The threat of sanctioning Turkey sends a clear message to that nation — and every nation in the world — that when it comes to religious freedom, the United States means business," he told NPR.
Family Research Council President Tony Perkins, who's also commissioner at the U.S. Commission on International Religious Freedom, called it a "clear, unequivocal message to the tyrants in Turkey."
According to the Daily Sabah, the new order for Brunson's house arrest came after a plea by the pastor and his lawyer over his poor health.
Brunson's family and U.S. officials who visited him in prison have expressed concern with the fact that Brunson has lost at least 50 pounds and is suffering from anxiety and depression.
Brunson was arrested in October 2016 on false charges of espionage and terrorism. A Turkish court document submitted by the prosecution claims that churches in the United States are somehow connected in a conspiracy so that they can go to other countries and disrupt and overthrow governments, and that those churches also gather intelligence.
Based on testimony from a secret witness who has not been revealed, Brunson was accused of obtaining secret documents related to the goal of espionage and overthrowing the government.
"I want the whole truth to be revealed. I reject all the accusations in the indictment. I haven't been involved in any illegal activity," Brunson said in April. "I haven't done anything against Turkey. On the contrary, I love Turkey. I have been praying for Turkey for 25 years."