Pastor Andrew Brunson Released From Turkish Prison, Placed Under House Arrest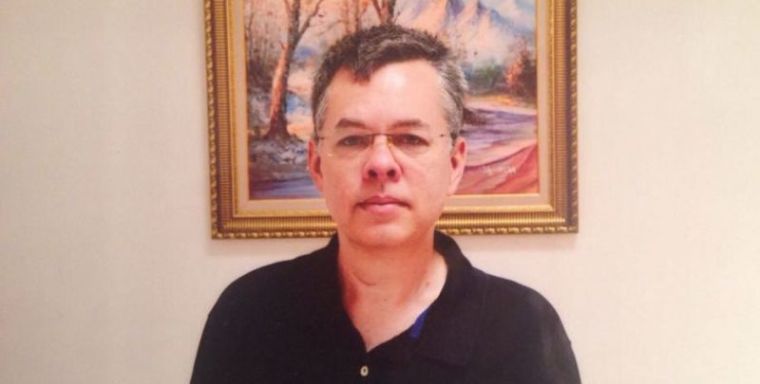 A Turkish court has ordered that Pastor Andrew Brunson be placed under house arrest and released from prison after being jailed for nearly 21 months.
The Turkish pro-government news outlet Daily Sabah reports that a penal court in western Izmir issued an order for Brunson's release, allowing him to return to his home in Izmir on the condition that he can't leave his house or the country.
Brunson was seen leaving the prison following the court's order on Wednesday. Television footage reportedly showed him being driven away from the prison with a police escort.
The news comes after a Turkish court ruled last week at Brunson's third hearing that he was to remain in prison until his next hearing in September. According to the Daily Sabah, the new order for house arrest comes after a plea by Brunson and his lawyer over his poor health. The court reportedly came to the conclusion that Brunson's could be effectively detained under house arrest.
Brunson's family and U.S. officials who had visited him in prison have expressed concern with the fact that Brunson has lost at least 50 pounds and is suffering from anxiety and depression.
The American Center for Law and Justice, which represents the North Carolina pastor's family, made the announcement Wednesday morning, just one day after Brunson's daughter gave an impassioned speech at the first-ever United States State Department Ministerial to Advance Religious Freedom.
ACLJ Chief Counsel and a lawyer of President Donald Trump, Jay Sekulow, said in a statement that the house arrest is a "critical first step" to what he believes will "result in the freedom of Pastor Brunson" to return to his family in the U.S.
"The president has played a critical role in securing the freedom of Pastor Brunson," Sekulow declared. "We have worked closely with the president on this matter and are grateful for his efforts. We look forward to the ultimate release of Pastor Brunson."
The U.S. Commission on International Religious Freedom, which has called for Brunson's release, welcomed the news but stressed that placing Brunson under house arrest "is not enough."
"The Turkish government has deprived this innocent man of his due process rights and liberty for too long, and it must completely release him," USCIRF Vice Chair Kristina Arriaga said in a statement. "If it fails to do so, the Trump administration and the Congress should respond strongly and swiftly with targeted sanctions against the authorities responsible."
Trump, Vice President Mike Pence and other high-ranking U.S. officials have called for Brunson's release. As well, a bipartisan group of 66 U.S. senators signed a joint statement demanding Brunson's release.
The 50-year-old Brunson is a Wheaton College graduate who served as the leader of a protestant church in Izmir for over 23 years before he was arrested in October 2016.
He spent over a year in prison before being charged with terrorism and accused of having connections to Kurdish militants and an Islamic group blamed for the July 2016 coup attempt against the Turkish government.
Brunson has denied the charges and it's widely believed that he's being held as a political bargaining chip for the extradition of U.S.-based Islamic cleric Fethullah Gulen. Turkey President Recep Tayyip Erdoğan has also suggested that Brunson's fate is tied to Gulen.
"I know my dad's character as only a daughter can, and I know the charges against him are absolutely absurd and false," Brunson's daughter, Jacqueline Furnari, told the State Department ministerial on Tuesday. "He is not an armed terrorist trying to overthrow any government."
The release from prison to home arrest is especially welcome since Brunson has at times been jailed with as many as 21 other men in a cell intended to only hold eight. He was also usually the only Christian in his cell. 
Pam Pryor, the State Department's senior adviser to the undersecretary of civilian security, told the ministerial and Furnari on Tuesday that the State Department is "truly working" on securing Brunson's release.
"Just like we saw this administration bring home a young man from Utah imprisoned in Venezuela recently and three Americans forcefully detained in North Korea as we watched them deplane in the middle of the night at Andrews Air Force Base, one day soon, we all want to be at your father's arrival ceremony on U.S. soil."
Last week, Trump took to Twitter to again urge the NATO ally to release Brunson, saying that his imprisonment is a "disgrace."
Trump wrote that Erdoğan "should do something to free" Brunson because "he has done nothing wrong."