Andrew Brunson: Prayers Urged Ahead of Third Hearing, Some Speculate US Pastor Will Be Released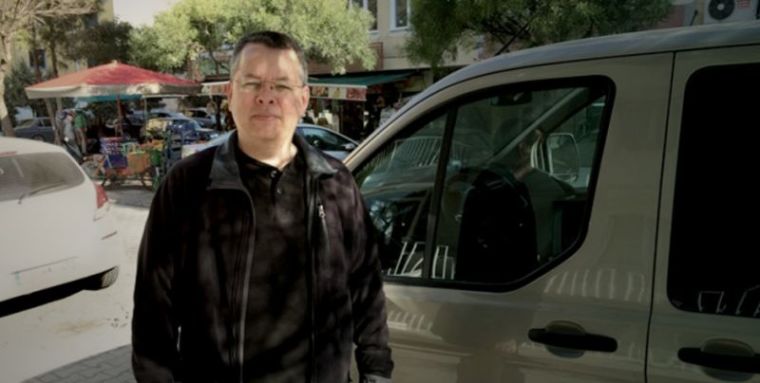 U.S. Pastor Andrew Brunson, imprisoned in Turkey, faces a major week as speculations swirl that he could be granted his freedom and returned to his family, or otherwise face what would amount to a near life sentence.
Open Doors USA, which reports on the persecution of Christians, said on Monday that Christians around the world can help Brunson prepare for the third hearing in his case in Izmir on July 18 by praying.
"In His Word, God has shown us how to pray for the persecuted. We can find insight and practical help in the scriptures:
'Continue to remember those in prison as if you were together with them in prison, and those who are mistreated as if you yourselves were suffering' (Hebrews 13:3)," the watchdog group suggested.
"'With all prayer and petition pray at all times in the Spirit, and with this in view, be on the alert with all perseverance and petition for all the saints' (Eph. 6:18)."
The group noted that Turkish newspaper the Hurriyet Daily News has prompted hope that Brunson, imprisoned since October 2016 on what he would find out later are espionage and terrorism charges, could see his ordeal come to an end soon with good news.
Analyst Serkan Demirtas recently outlined various political reasons, including President Recep Tayyip Erdoğan wishing to avoid U.S. sanctions, as to why Brunson may be released sooner than some think.
"Brunson, who has been in jail since late 2016, seems to be much too costly for Turkey and his continued detention would further complicate the situation," Demirtas wrote in a column.
"That is why many diplomats in Ankara expect his potential release followed by his deportation pending trial on the July 18 hearing."
Brunson lived and served in Turkey for 23 years at a small evangelical Presbyterian congregation in Izmir prior to his arrest. Rights advocates believe that Brunson was arrested in an attempt to force the U.S. government to extradite Islamic cleric Fethullah Gulen, who resides in Pennsylvania. 
Last month, Sen. Lindsey Graham, a Republican, and Sen. Jeanne Shaheen, a Democrat, met with Erdogan to try to secure the pastor's release. Graham maintained that Brunson "is not guilty" of anything. 
Open Doors reminded readers that he faces a very long prison sentence if found guilty next week.
"If convicted, Pastor Brunson faces a life sentence of 35 years. He has vehemently denied all the charges," the group noted.
The 50-year-old pastor has argued that he is being punished for his Christian faith.
"My service that I have spent my life on has now turned upside down. I was never ashamed to be a server of Jesus, but these claims are shameful and disgusting ... There is not one photograph or tape recording praising the PKK at the Resurrection Church," Brunson said.
In letters from prison, he added, "Let it be clear. I am in prison not for anything I have done wrong, but because of who I am–a Christian pastor. I desperately miss my wife and children. Yet I believe this to be true: it is an honor to suffer for Jesus Christ, as many have before me."
Christians have been targeted under Erdogan's regime, International Christian Concern has noted.
ICC said in June that Erdogan's re-election win that month increased concerns for believers in the country.
"President Erdogan won the election, ushering in new constitutional changes that radically change the country's system of government. Much of the parliament's oversight of his presidency has been abolished, and Erdogan now has significant powers over the legal system," ICC warned.
It added that Brunson's fate remains uncertain, with Erdogan having expressed interest in using him for bargaining with the U.S.
"Turkish Christians have regularly pointed toward the legal system as being one of the major driving forces of persecution, and Erdogan has made it clear that he views Christianity as a threat to his rule," the group added.