Christian Universities Could Lose Tax-Exempt Status If Supreme Court Rules in Favor of Same-Sex Marriage, Sen. Mike Lee Warns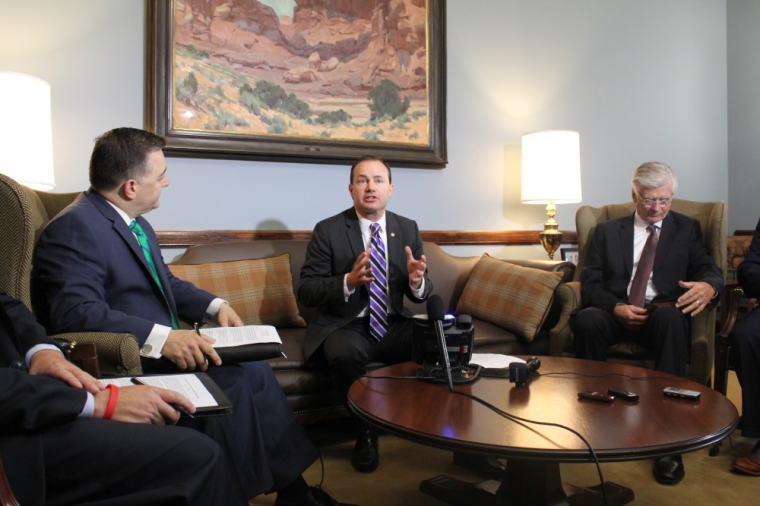 WASHINGTON — Senator Mike Lee, R-Utah, addressed concerns that faith-based schools and institutions would be at risk of losing their tax-exempt status for upholding their biblical belief of traditional marriage if the U.S. Supreme Court delivers a pro-gay marriage ruling this month.
At a Wednesday press conference held in the senator's Capitol Hill office, Lee, along with prominent members of the evangelical higher education community, voiced concern over comments made in the Supreme Court's oral argument in April by the Obama administration's lead attorney, Solicitor General Donald Verrilli.
Lee explained that Verrilli, who testified as a friend of the court on April 28 in favor of making same-sex marriage a national right, was asked by Justice Samuel Alito whether or not making same-sex marriage a constitutional right would allow for the IRS to revoke the tax-exempt statuses of faith-based schools and universities that choose not to recognize same-sex marriage because of their biblical convictions.
"The response uttered by Solicitor General Verrilli was troubling to say the very least. He responded by saying 'I don't deny that. I don't deny that, Justice Alito. It is going to be an issue,'" Lee explained. "He reiterated this response basically four times that this is going to be an issue that he doesn't deny that this is a very real possibility, if not a probability."
"Tax-exempt status for religious institutions has historically been granted because we want to keep the government out of the business of interfering with religion," the senator continued. "It really ought not be in the business of disrupting the business of a church or religious institution."
Lee told reporters that he plans to introduce a bill called the Government Nondiscrimination Act, which would essentially prevent the federal government from taking action against an institution based on the institution's belief that marriage should only be a union of one man and one woman.
Lee did not indicate when he plans to introduce the legislation, but he could introduce the bill after the Supreme Court reaches a decision on constitutional same-sex marriage sometime in June.
"When the government itself is retaliating against someone based on their religious beliefs, that is a problem and that is what we are trying to protect here," Lee said. " We expect that in part because the Obama administration's chief advocate, before the Supreme Court, acknowledged that it is going to be an issue, that is that you are going to have some religious institutions losing certain status, perhaps tax-exempt status, perhaps some other type of status and that's why we feel like we need this law. We need something in the United States code that protects Americans against that type of discrimination by government."
Also speaking at the press conference was Dr. Keith Wiebe, president of the American Association of Christian Schools, who said that if same-sex marriage became constitutional and religiously-affiliated universities began losing their tax-exempt statuses, it would cause them great financial ramifications and even cause those institutions to close down.
"Absolutely, [some religious schools] would have to close down [if they lost their tax-exempt statuses]. The financial ramifications are pretty significant, in terms of them being able to operate if everything they are doing becomes taxable," Wiebe asserted. "They are receiving hundreds of thousands of dollars a year in tuition. Our schools, they are private schools, they are Christian schools, they receive money for tuition, that suddenly becomes taxable."
Wiebe also said that the accreditation of religious institutions and the certification of their teachers would likely be rejected should gay marriage become constitutional and Lee's legislation is not enacted to protect them.
Dr. Samuel Oliver, president of the evangelical Union University in Tennessee, added that there are over 29,000 faith-based preschools, elementary schools and high schools along with 1,700 faith-based colleges in the United States. He explained that if some of those schools lost their tax-exempt statuses, it would create a "great burden on the taxpayers" and would be "catastrophic for the common good."
"If say even 100 institutions the size of Union [University] closed, that would be 400,000 students that would be put in the system," Oliver said. "The state of Tennessee, where we are, funds higher education and putting those students into those systems would cause great burden on the taxpayers, not to mention the loss of the common good that comes from the institutions themselves."
"If faith-based education ceases to exist, the state educational system will not be able to accommodate the number of students who are dumped into the pool," he added. "To force students, by default, to attend secular schools is a form of mind control."
Expanding the issue outside of the realm of educational institutions, Dr. Jerry Johnson, president of National Religious Broadcasters, wondered whether tax-exempt ministries would be at risk of losing their status. He also pondered whether the Federal Communications Commission would choose to not license or revoke licenses of broadcasters who uphold a biblical belief of traditional marriage.
"For radio stations, my interest, the [FCC], those broadcast licenses, are they going to be at risk if they don't honor that new constitutional right?" Johnson asked. "The solicitor general, as the senator pointed out, cleared up any confusion about that in the mind of the administration. I want to quote even more precisely, he said it is 'certainly' going to be an issue. He used the word 'certainly.' This is not maybe. 'Certainly' for this administration, this is an issue."