Christians Fear Crackdown on Religion Under Evangelism Ban in Nepal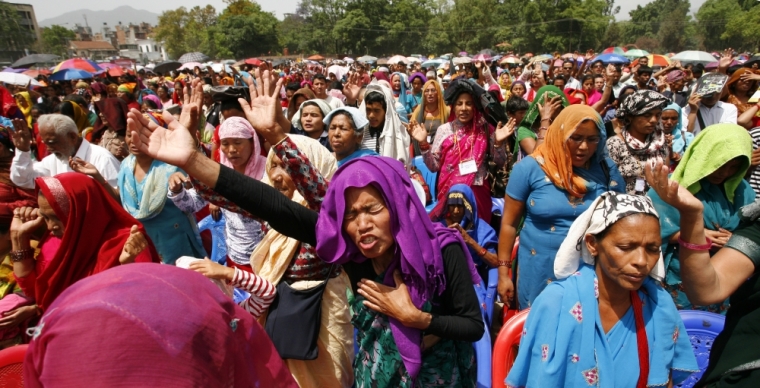 While attacks against the Christian minority has increased in Nepal, the Himalayan country's parliament passed a bill criminalizing religious conversion and the "hurting of religious sentiment," aiming to restrict evangelism. The move is likely to further escalate Christian persecution.
Clause 160 in section 9 of the bill, which restricts religious conversion, could be invoked against a wide range of legitimate expressions of religion or belief, including the charitable activities of religious groups, or merely speaking about one's faith, which could be portrayed as attempts to convert others, said the U.K.-based Christian Solidarity Worldwide.
Clause 158 of section 9 of the bill, which criminalizes the "hurting of religious sentiment," is similar to the blasphemy laws in Pakistan, which make it a criminal offense to insult another's religion, CSW pointed out.
Those found guilty, including foreign visitors, could face up to five years in prison for seeking to convert another person or for hurting the religious sentiments of others.
Similar "anti-conversion" laws in force in neighboring Burma, officially known as Myanmar, and in six Indian states have been misused to target religious minorities, especially Muslims and Christians. The laws are vaguely worded in such a way that even legitimate preaching of Christianity can be proven to be a criminal activity.
However, Nepal's president is expected to sign the bill into law this week.
Christians have been under attack since before the promulgation of the country's new constitution in September 2015.
Low-intensity blasts occurred in two churches in east Nepal around the time. Pamphlets promoting Hindu nationalism were found at each of the churches and a nationalist group, Hindu Morcha Nepal, issued a press statement calling for Christian leaders to leave the country and for Christian converts to return to Hinduism.
The constitution establishes Nepal as a secular country but also effectively bans evangelism, as it states that no one is allowed to make an attempt to convert people of other religions to his or her own. It also calls for the protection of Hinduism, the majority religion.
Hindu nationalist groups allege that Hinduism is under threat as more people could now be converted into Christianity. They have been calling for the exclusion of the term "secularism" from the charter of Nepal, which was a Hindu monarchy until 2006.
On April 16, a Christian worker, Santosh Khadka, was shot in the national capital of Kathmandu as he was returning from an Easter service. The attackers have not been identified but Christians believe Khadka was targeted because of his faith and his religious freedom work.
Earlier, seven men and one woman, all counsellors, were arrested and charged with "proselytizing" after they gave out a pamphlet about Jesus in a Christian school, while helping children through the trauma of the 2015 earthquake. They were later cleared of all charges.
Several other Christians have ben falsely accused of using allurement or force to convert others, local Christians have stated.
Christians also complained that they have no land for burial.
Without a proper graveyard, Christians are forced to take the bodies to nearby forests at night, but there are legal consequences if they are caught. And if Christians bury their loved ones in land where they are not allowed, the local Hindu majorities force them to dig up the remains and relocate them somewhere else.
C.B. Gahatraj, general secretary of the Federation of National Christians, Nepal, earlier spoke with The Christian Post and said in some reported cases, the remains of deceased Christians have been dug up from the ground and dumped at the homes of their relatives, or left out on the streets.
A Christian member of Nepal's parliament, Lokmani Dhakal, had requested fellow lawmakers to remove the two sections.
"It seems very clear to me that this country when preparing the civil code has forgotten it is a signatory to international treaties that protect the freedom of religion and human rights," he stated. "Please don't let it be possible for the world to say of Nepal that we are the kind of nation that on the one hand signs international treaties but when making internal laws and in implementing them, does something else."