Christians Threatened With Blasphemy Charges for Protecting Church Against Militant Pakistani Muslims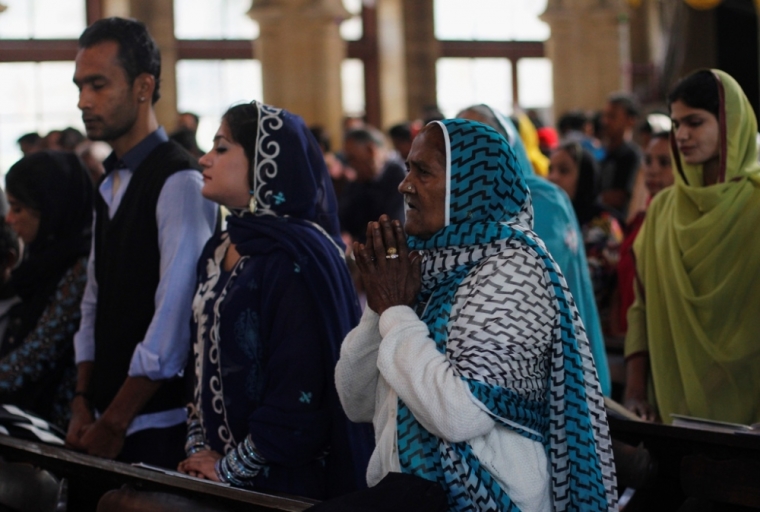 A congregation in the southern Pakistani city of Karachi is being threatened by Muslim criminals who want to seize the church's land. The menacing group is trying to intimidate the Christian community by saying that they'll accuse them of the highly punishable offense of blasphemy if they don't vacate their church property and stop worshiping there.
Members of the Jerusalem Church, a Pentecostal, 300-family congregation in Karachi, have informed International Christian Concern that they've been receiving deadly threats from a group of armed Muslim miscreants, who are known for seizing property from the poor and various targeted killings.
Church members said they were approached in May by the group and were told to leave the church and never return. However, the interaction in May was not the only time that church members were confronted by the group, according to one of the church's pastors, Ilyas Masih.
"These Muslims have been pressuring the church people not to play musical instruments and asked the church leaders to stop girls from singing with boys in the church," Masih explained. "Several times they stopped and threatened the worshipers and pastors for going into church for prayers and harassed the women in the past."
Being accused of blasphemy in Pakistan is a serious and almost undefendable charge for Christians. When a Christian is accused of blasphemy, they are often put in jail, sentenced to death or imprisonment or victimized by angry Muslim mob violence. Any such accusations of blasphemy toward the Jerusalem Church could land the its members in serious legal and social controversy.
Although blasphemy accusations carry huge consequences for the accused, Masih said members of the congregation will stand strong in their faith and added that they will have to be killed before they willingly give up their church, which was constructed in the late '90s.
"The Christians of the locality have responded in a brave manner and announced that they will die before they let them grab the church property," Masih asserted.
John Nazareth Adil, a local activist, told ICC that the group of Muslims probably want to use the church property to carry out "their agendas."
The congregation has submitted a request to the local police department for extra protection, however, the church is still being threatened, Masih said.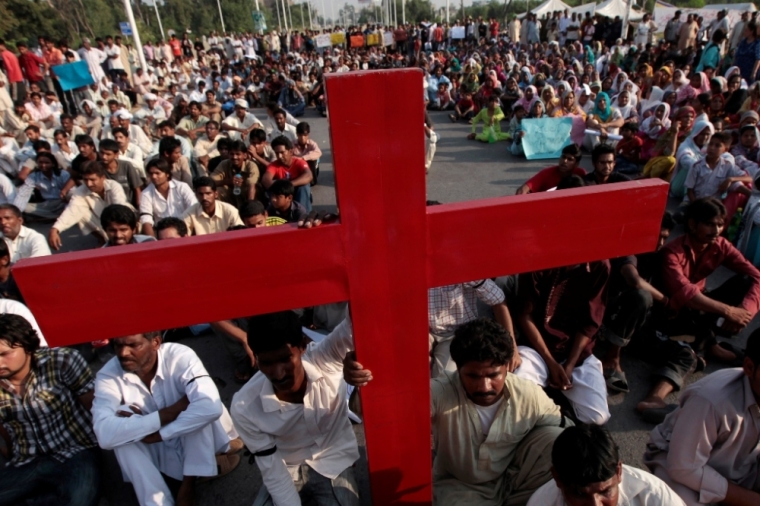 "Yet again a church in Pakistan faces harassment of its women and threats about how and when church services and worship should be conducted," Wilson Chowdhry, president of the British Pakistani Christian Association, told The Christian Post on Tuesday. "A similar treatment to a church in Badami Bagh in 2011 resulted in a local contract between Muslims and Christians, in which churches were restricted on the times they could have their services and agreed not to speak of God on the streets, as it was offensive to Muslims."
According to Chowdhry, Karachi is the most "lawless" region in Pakistan, where many previous false blasphemy accusations have led to the deaths of Christians.
"Karachi is known for its lawlessness and Christian men often lose their lives in extra-judicial killings," Chowdhry stated. "In 2014, Boota Masih, a Christian jeweler, had his throat slit in public after a jealous Muslim accused him of blasphemy. The family was prevented from taking legal action after [receiving] threats from the relatives of the murderer."
When it comes to being accused of blasphemy in Pakistan, the individuals accused are not the only ones at risk of Muslim mob retaliation, Sardar Mushtaq Gill, a leading Pakistani-Christian human rights lawyer, told CP in a statement.
"The threats that involve blasphemy are common in Pakistan and Muslims of Pakistan ... if any Christian is accused of blasphemy then the whole community has to suffer," Gill asserted. "Last month, the Muslim mob of about 500 attacked Christians' homes [in Lahore] on pretexts that one Christian man burned some papers on which Islamic text was written."
"This is the reason [for] a large number of Christians [fleeing] from Pakistan and seeking asylum in different countries," Gill continued. "The government of Pakistan has to take strong and concrete steps to eradicate religious extremism and intolerance from our society, otherwise peaceful society will be not possible. I think Pakistan should be secular state if it wants to get progress in every field of life."
Chowdhry explained that most Christians who flee Pakistan do so because of religious persecution and they end up in Malaysia, Sri Lanka or Thailand, and added that each country has a population of about 10,000 Pakistani asylum seekers.
But in most cases, those seeking refugee status in those countries are not recognized as refugees and are often arrested and fined.
"This treatment of [Pakistani] Christians is not unlike the treatment of Armenian Christians, who later faced the awful extermination during the Armenian Genocide as quoted by Lemkin. Just like Turkey before them, Pakistan denies that Christians face brutality, persecution and hatred, and Britain, as a nation, due to vested interests, remains shockingly silent," Chowdhry contended.
"I hope we do not see a repeat of the mass killings faced by our Armenian brothers and fully understand why Christians in their droves are fleeing Pakistan despite being re-persecuted in other nations such as Thailand, where there is said to be 10,000 Pak-Christian refugees. It is time the world listened to the stories that the victims are desperate for humanitarians to hear."