Muslim Mob Loot Christians' Homes, Attempt to Burn Down Church After Mentally Ill Man Is Accused of Burning a Quran in Pakistan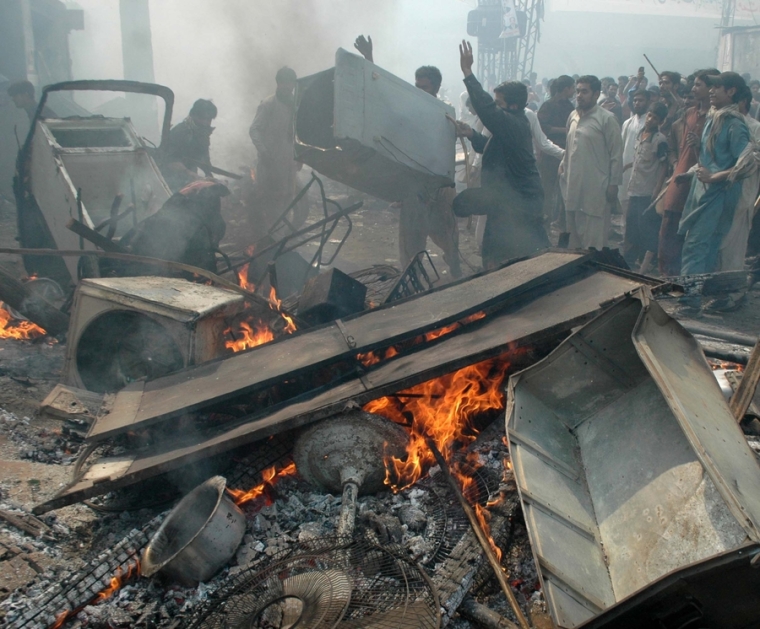 A Muslim mob led by clerics looted homes and attempted to burn a church in Lahore, Pakistan, after learning that a mentally ill man allegedly burned pages of a Quran in the city's Glushan Ravi area on Sunday evening.
Humayun Faisal, a middle aged Christian who's said to be mentally challenged, was taken into custody after some locals accused him of burning a Quran. He was charged under section 295-B of Pakistan's penal code that deals with the desecration of the Muslim holy book.
A complaint was issued by local Sayed Zeeshanul Haq and news of the crime sparked outrage among hundreds of Muslims who looted houses and attempted to burn a church.
Haq described the incident to The Express Tribune.
"Many people gathered on the spot and some of them even tried to burn him alive, however, we saved him and handed him to the police," he said. "Later a charged mob reached the house of the accused and recorded their protest."
Wielding deadly weapons the mob looted around 15 homes, chanting Allah-o-Akbar. Residents fled their homes during the conflict, according to another local Khalid Shehzad. He described Faisal's condition to The Express Tribune.
"Humayoun is mentally instable and does not understand the sensitivity of the matters," he said.
The looters robbed homes, fired guns into the air, broke electricity meters and broke down the doors of houses.
"Some were chanting abuses against Christians while firing," continued.
Authorities have been deployed in the area to prevent any further incidents, however, many residents still have not returned to their homes. Police were able to stop the mob from setting a local church ablaze after violent clashes which led to police being hit with stones. Police retaliated with batons. At least six police were injured in the melee including Lahore DIG Operations Dr. Haider Ashraf who suffered a head injury.
Religious tensions have erupted in Lahore before. In 2013, Muslim mobs upset over an alleged derogatory comment about Muhammad burned down more than 180 Christian-owned houses and at least two church buildings. No one was killed in these attacks which took place in Lahore's impoverished Joseph Colony.
Residents said the police allowed the mobs to carry out these hate crimes.
"The police let our homes burn and be vandalized … a heavy price to pay when you are a Christian in Pakistan," said a resident in the area back March of 2013. "The entire locality was left to the mobs because a Christian happened to get involved in a dispute with a Muslim."
The conflict was sparked when local Sawan Masih told Muslim barber Shahid Imran that Jesus was the greatest prophet ever. Imran interpreted Masih's statements as Islamic ridicule and blasphemy.