Christians 'Violated, Betrayed': Nigerian Bishops Ask Buhari to Resign Over Horrific Mass Slaughters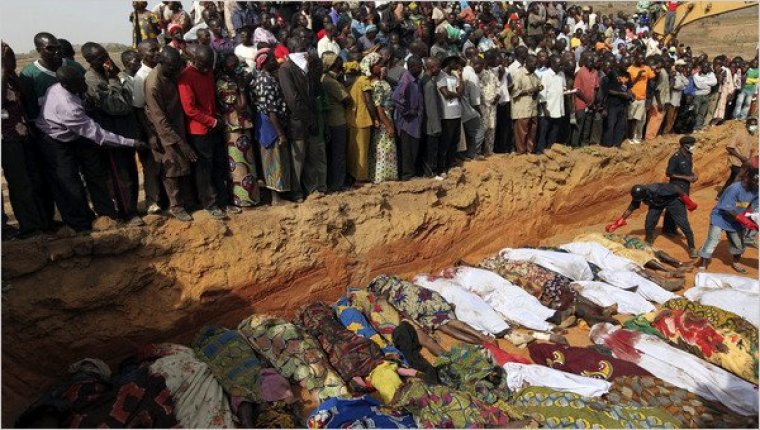 The Catholic Bishops' Conference in Nigeria, the highest church authority in the country, is calling for President Muhammadu Buhari to resign following a mass wave of slaughter of Christians at the hands of radical Muslim Fulani herdsmen this month.
In a statement titled "When Will This Barbarism End?" the bishops lamented the killing of 19 people, including two priests, during Catholic mass last week in Benue State.
At least another 39 Christians were killed in separate attacks later on in the week in several villages.
"We are sad. We are angry. We feel totally exposed and most vulnerable. Faced with these dark clouds of fear and anxiety, our people are daily being told by some to defend themselves. But defend themselves with what?" says the statement.
"The Federal Government, whose primary responsibility it is to protect lives, for its part alleges that those who ask the people to defend themselves are inciting them to take the laws into their hands.
"But how can the Federal Government stand back while its security agencies deliberately turn a blind eye to the cries and wails of helpless and armless citizens who remain sitting ducks in their homes, farms, highway and now, even in their sacred places of worship?"
The bishops declared that Christians "feel violated and betrayed in a nation that we have all continued to sacrifice and pray for. We collectively feel abandoned and betrayed."
The statement went on to criticize what it said was Buhari's lack of effective action to stop the Fulani attacks, saying that if he cannot keep the country safe, then the citizens cannot trust him any longer.
"He should no longer continue to preside over the killing fields and mass graveyard that our country has become," the bishops stressed.
"It is clear to the nation that he has failed in his primary duty of protecting the lives of the Nigerian citizens. Whether this failure is due to inability to perform or lack of political will, it is time for him to choose the part of honor and consider stepping aside to save the nation from total collapse."
Buhari described last week's attack on the Catholic church as "particularly despicable."
"Violating a place of worship, killing priests and worshipers is not only vile, evil and satanic, it is clearly calculated to stoke up religious conflict and plunge our communities into endless bloodletting," he said at the time.
CNN reported late last week that the Nigerian Senate has summoned Buhari to respond to the "serious crisis" that has engulfed the country.
Although for years Nigeria has been fighting Boko Haram, another Christian-killing terror group, the Fulani radicals have overtaken it as the deadliest faction in the country.
Bukola Saraki, Nigeria's Senate leader, said that "these daily killings have to stop."
The country's lower parliament passed a vote of no confidence in service chiefs and security advisers, saying that they must be dismissed over their failure to protect citizens.
Persecution watchdog groups, such Open Doors USA, have asked U.S. President Donald Trump to speak with Buhari about the religious attacks in his meeting with Buhari this week.
"President Buhari has done nothing more than issue empty words of condolence as villages have been burned and thousands of religious minorities have been slaughtered. His inaction has meant attacks by the Fulani are becoming more deadly and sophisticated," Open Doors USA CEO David Curry said.