Columbia U suspends anti-Israel student groups; Jewish board member quits over safety concerns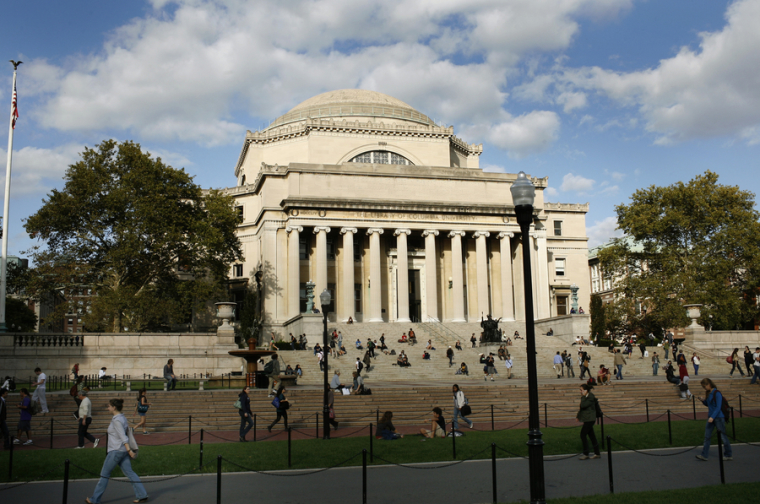 Columbia University has suspended two student groups for holding an unauthorized walkout demanding the institution call Israel's military response in Gaza a "genocide" days after a Columbia Business School board member quit over safety concerns. 
On Friday, the university suspended pro-Palestinian student groups Students for Justice in Palestine (SJP) and Jewish Voice for Peace (JVP), barring them from being allowed to hold events on campus or receive university funding.
"This decision was made after the two groups repeatedly violated University policies related to holding campus events, culminating in an unauthorized event Thursday afternoon that proceeded despite warnings and included threatening rhetoric and intimidation," Columbia's Senior Executive Vice President Gerald Rosberg said in a statement.
The two organizations will not be eligible to hold campus events or receive university funding during their suspension. 
"Lifting the suspension will be contingent on the two groups demonstrating a commitment to compliance with University policies and engaging in consultations at a group leadership level with University officials," Rosberg said.
In a protest organized by the two organizations, hundreds of Columbia students walked out of their classes for a protest demanding that the U.S. government support a ceasefire in the Israel-Hamas war that has been raging since Oct. 7, when Hamas terrorists killed more than 1,400 people — including at least 30 Americans — during an attack against communities in southern Israel near the country's border with Gaza. Hamas-run health authorities claim over 10,000 people have been killed in Gaza since the start of the war. 
"During this especially charged time on our campus, we are strongly committed to giving space to student groups to participate in debate, advocacy, and protest," Rosberg added. "This relies on community members abiding by the rules and cooperating with University administrators who have a duty to ensure the safety of everyone in our community."  
Billionaire philanthropist Henry Swieca recently quit the board of Columbia Business School, accusing the school of "moral cowardice" and alleging that the campus has become unsafe for Jewish students amid the tensions of the Israel-Hamas war.
Swieca, the 66-year-old founder of Talpion Fund Management and Highbridge Capital Management, penned an Oct. 30 letter made public this week that blasted the Ivy League institution for allowing "blatantly anti-Jewish student groups and professors to operate with complete impunity," according to The Times of Israel.
Swieca, a 1982 Columbia graduate whose parents are Holocaust survivors, claimed the school is sending "a clear and distressing message that Jews are not just unwelcome, but also unsafe on campus," and added that his resignation from the Board of Overseers he has served on since 2014 was "an expression of my deep concern for the direction in which the university is heading."
"This is abhorrent," he wrote. "Any other minority group on campus would never have to face anything close to this level of intimidation and hatred of Jewish and pro-Israel students experience."
"To my deep regret, the reputation and integrity of Columbia University and by extension Columbia Business School, have been significantly compromised by a moral cowardice that appears beyond repair," he added.
Quoting Abraham Lincoln, Swieca wrote that "to sin by silence when they should protest makes cowards of men."
Columbia Business School did immediately respond to The Christian Post's request for comment, but a spokesperson for the university told Fox News Digital that Columbia President Minoouche Shafik and the school are "concerned for the safety and security of all its students and community members."
"That's why the president announced both a Task Force on Antisemitism and a Doxing Resource Group to address the acute problem of doxing playing out on our doorstep, even today," the spokesman said.
Columbia was recently in the headlines after a 24-year-old Israeli student was beaten with a stick outside the university's main library.
Maxwell Friedman, 19, was arrested following the attack and charged with second and third-degree assault, both of which the Manhattan District Attorney's Office labels as hate crimes. Friedman was also charged with fourth-degree criminal possession of a weapon and second-degree aggravated harassment.
The Columbia Spectator identified the former student as "Malaika Friedman," using female pronouns.