Cultural Left's Influence on Democratic Party Is a 'Real Problem,' Jim Wallis Warns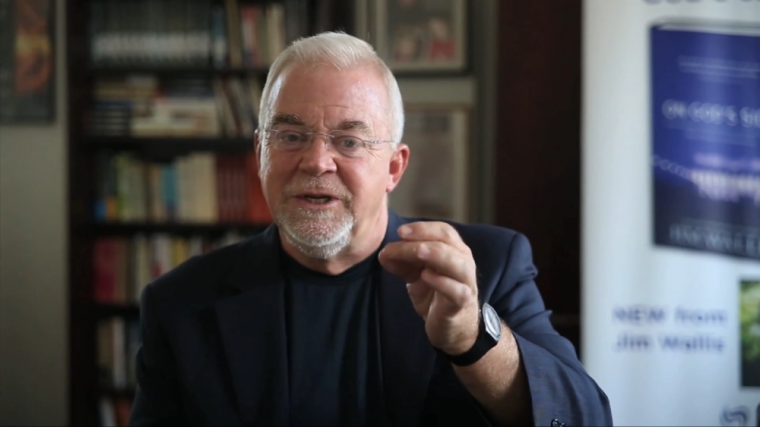 The influence of the "cultural Left" on the Democratic Party has become a real problem for American political discourse, prominent progressive Christian leader and social justice advocate the Rev. Jim Wallis has warned.
In an interview with The Christian Post last week, Wallis, the 68-year-old founder of the Christian social justice group Sojourners, explained that during the 2016 election, Democratic nominee Hillary Clinton and the Democratic Party should have taken steps to show that the party is embracing middle ground when it comes to the issue of abortion.
Although Wallis is critical of Christians who voted for President Donald Trump and believes they ignored the "racial bigotry" furthered by the Trump team throughout the campaign, Wallis admitted that both Clinton and Trump were "flawed" choices.
Wallis, who identifies as pro-life, said he understands why a lot of conservative Christians felt they could not vote for Clinton, considering her strong support for elective abortion up until birth and her early endorsement from the nation's largest abortion provider, Planned Parenthood.
Considering that Clinton was once quoted as saying that abortion should be kept "safe, legal and rare," Wallis criticized Clinton for never mentioning during the campaign how she believes abortion should be "rare."
Wallis told CP that he even emailed Clinton before the second presidential debate in October and suggested that she state during the debate, "Let's together make abortion rare." Wallis said that he never got a response nor did Clinton say what he advised her to say.
"I told her she should say that and I tell the Democrats that all the time. We all should be committed to reducing abortion, at least that. That is some common ground that both sides could take and the Democrats won't do that," Wallis said, adding that he has made that point clear to Democratic leaders over the years. "If she had been elected, my first visit to her would have been around that. Christians should speak up on those issues."
Wallis also recalled when he was asked to contribute to the Democratic Party platform in 2008.
"I said, 'We should commit ourselves to reducing abortion in America,'" Wallis detailed. "The Left said to me, 'Reducing implies there is a moral taint, a moral issue.' I said 'Yes it does and there is.'"
Wallis believes part of the reason why the Democratic leadership won't acknowledge that abortion needs to be rare, is because of the strong grip that the abortion lobby has on the party leadership.
"Democrats have to be much more open to people who have a pro-life view," Wallis said, pointing out how pro-life feminists groups were prevented from being sponsors at the Women's March on Washington on Jan. 21. "To me, the influence of the cultural Left, you might say, on the Democratic Party, to me, is a real problem."
Although Wallis called on Clinton and the Democratic Party to embrace middle ground on abortion, the party is now actually promoting a more radical stance on abortion after it made additions to its party platform in 2016 that called for an end to longstanding bans against using federal funds for abortion.
There are a few Democratic members of Congress, such as Sen. Joe Manchin, D-W.V., Sen. Joe Donnelly, D-Ind., Bob Casey, D-Pa., who voiced their opposition to the new pro-abortion elements of the platform.
"I talked to a member of Congress yesterday for lunch who is Catholic and a Democrat and he has a real problem with how his party is dealing with these issues. He thinks they need to learn from their loss and deal with these issues," Wallis explained. "There are Democrats who want to deal with these issues differently. They really do but they are not the ones right now controlling the party. That has to change. I have been clear about that."
Wallis said that there are also hypocrisies within the Republican Party, which claims to have more of a "pro-life" platform.
Wallis stated that Republicans are not willing to support contraceptive and family-planning programs for low-income women that he says have been the major reason the abortion rate fell to the lowest level since 1973 during the Obama administration.
"The critique of the Republicans is that 'I don't think they are pro-life. They are pro-birth but not pro-life,'" Wallis said. "As soon as those kids are out of the womb, if they are poor kids, there is no longer any support. You can't be pro-life and want to cut food stamps for poor families. That is inconsistent. That is hypocrisy."
"You can't be pro-life and not want to support low-income women and families. I don't think you can be pro-life and support the death penalty. I don't think you can be pro-life and support nuclear weapons. I think there has to be this seamless garment of life. I wish evangelicals would embrace that kind of pro-life stance, not a politically partisan Republican stance."