Donald Trump to Ted Cruz: 'You Can't Lie and Hold Up the Bible'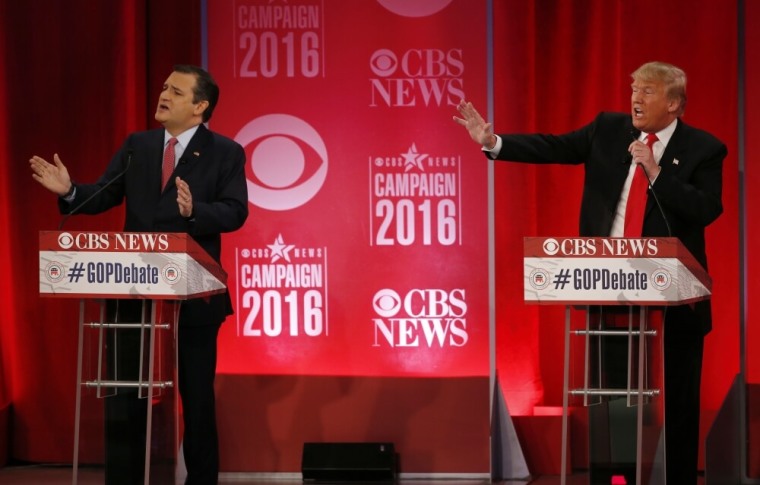 Republican Presidential candidate Donald Trump has accused rival Texas Sen. Ted Cruz of claiming to hold Christian values while at the same time lying and committing "disgraceful" actions.
Trump was asked on CBS' "Face The Nation" on Sunday whether he questions Cruz' Christian faith, to which he replied:
"No, I say this. I say this. You can't lie and then hold up the Bible, OK?"
Trump continued: "He consistently lies. What he did to Ben Carson was a disgrace. What he did with the voter violation form, which is a fraud, is a disgrace. And you can't do that. You can't hold up all of these values and hold up the Bible and then lie."
Trump's comments refer to controversy surrounding the Iowa caucuses earlier in February, which Cruz won, but was accused by fellow candidate Ben Carson of spreading misinformation about his campaign plans.
Carson revealed that representatives of Cruz's campaign had allegedly spread rumors that the retired neurosurgeon was dropping out of the race, which he said amounted to "dirty tricks."
"I mean do you think that that is something that's acceptable? That's one of the reasons that I got into this race because looking at the level of deceit and distrust that is going on in our country, so I just want you to know, I'm not going anywhere," Carson said at the time.
Cruz apologized for what happened and partly placed the blame on a CNN report which seemed to suggest Carson was dropping out, which the Texas Senator's team posted, but admitted it was a mistake that the team then didn't post Carson's clarification that he is staying in the race.
Trump, who finished second in Iowa, claimed the situation was a "fraud," however, and asked for a do-over of the caucuses.
"He insulted Ben Carson by doing what he did to Ben Carson. That was a disgrace…. He's a man of insult," Trump said.
Trump and Cruz have butted heads on a number of issues, with the billionaire businessman suggesting Cruz might not be eligible to serve as president given that he was not born in the United States, but in Canada.
Cruz has insisted, however, that he qualifies as a natural-born citizen because of his American parents.
"As a legal matter, the Constitution and federal law are clear that the child of a U.S. citizen born abroad is a natural-born citizen," Cruz told CNN in January.
"The Internet has all sorts of fevered swamp theories but the facts are simple," he added, noting that he has remained a U.S. citizen his entire life.
Trump's own Christian faith has been heavily questioned as well by some critics, such as conservative TV personality and radio host Glenn Beck.
Beck, who is a Mormon and a supporter of Cruz, said last week during a rally in South Carolina for the Texas Senator that "too many people are looking at Trump and believing that man has ever opened a Bible … that's the biggest crock of [expletive] I've ever heard."
"I'm going to be very blunt with you tonight," Beck added. "Donald Trump is very dangerous in my opinion."