Trump Reads Bible? 'Crock of [Expletive],' Mormon Glenn Beck Says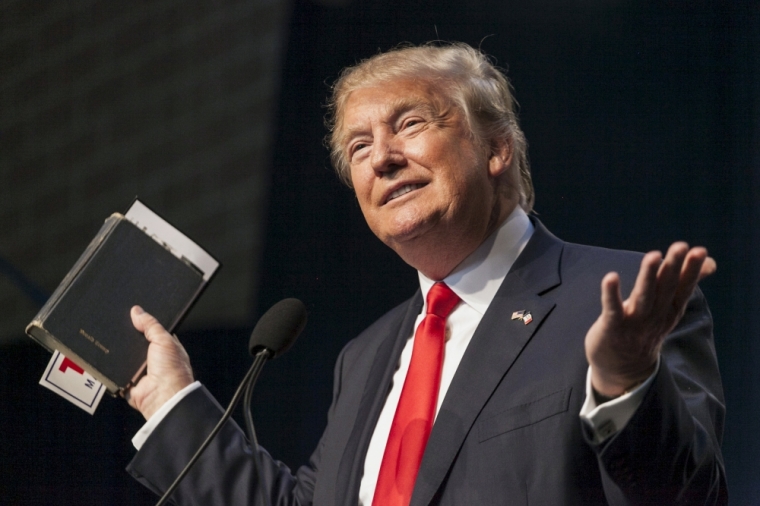 Conservative TV personality and radio host Glenn Beck, who is a Mormon, blasted Republican presidential candidate Donald Trump and suggested that the idea that he has even read the Bible is a "crock of [expletive]."
Speaking at a rally in South Carolina in support of rival presidential candidate Sen. Ted Cruz, Beck said that "too many people are looking at Trump and believing that man has ever opened a Bible … that's the biggest crock of [expletive] I've ever heard."
"I'm going to be very blunt with you tonight," Beck added, according to Breitbart. "Donald Trump is very dangerous in my opinion."
The radio host further slammed the idea that Trump can "come in and magically fix us," and warned that "you can't declare bankruptcy as a country."
Trump has insisted on a number of occasions that he is a Christian and a member of the Presbyterian denomination, and in January said that he has a "great relationship" with God.
"I live a very different life than probably a lot of people would think," Trump told CNN back then, also claiming that he has a great relationship with evangelical voters.
"I'm talking about over the last number of years, I'm leading a very good life. I try to lead a good life and I have."
Trump has been criticized for a number of gaffes regarding the Bible, however, including a January speech at Liberty University when he referred to the Second Corinthians book as "Two Corinthians."
Some, such as former U.S. House Majority Leader Rep. Tom DeLay, R-Texas, even argued in an op-ed that Trump's speech at Libery was "insulting to Christians everywhere."
Despite the questions surrounding the authenticity of his faith, Trump has continued to receive the support of evangelical voters. CNN exit polls from earlier this week showed that 27 percent of self-identified born-again Christians voted for Trump in the New Hampshire Republican primary election, which the billionaire businessman won.
Beck, who describes himself as "a born again LDS Christian," has also been involved in faith-related controversy.
In July 2015, Texas megachurch pastor Ed Young was criticized for inviting Beck to speak to his evangelical congregation, because of the latter's Mormon faith.
Beck delivered a speech at Fellowship Church regarding the significance of America's Independence Day history, and later backed Young for being "brave" and for "taking a beating for inviting me to speak at his church all three sessions this weekend."
Fellowship spokesman Andy Boyd told The Christian Post at the time that the church trusts that Glenn Beck is a man of God.
"Glenn Beck is a man who is undoubtedly an American patriot, loves this country, and has shown his love for God in many ways," Boyd said in a statement.