'Duck Dynasty' Christmas Album to Feature Country Stars Luke Bryan, George Strait (Promo VIDEO)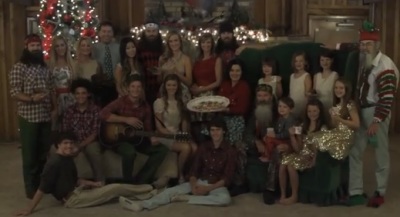 The quirky, redneck clan of Robertson family members from the hit A&E reality television show "Duck Dynasty" will be releasing a Christmas album at the end of October that will feature country star talent, including cameos from Luke Bryan, George Strait, Josh Turner and Alison Krauss.
A promotional video released September 30 shows the members of the Robertson family, including Phil, Ms. Kay, Willie, Jace, and Jep, along with all the wives, children and grandchildren, creating their upcoming Christmas album in a recording studio.
The two-minute long video also shows the entire clan posing for Christmas pictures, assumedly for the cover of their Christmas album, and footage of Willie and Phil singing with country music legends George Strait and Luke Bryan.
"We're here to start the Christmas abum," Willie tells the camera while standing at a microphone in a recording studio. "We're pumped about this."
"We're making joyful noises, and our wives and kids are singing. They're actually a little better than us," brother Jace Robertson added.
The album, entitled "Duck the Halls: A Robertson Family Christmas," will include classic Christmas jingles such as "I'll Be Home for Christmas," sung by Missy Robertson, and "You're a Mean One, Mr. Grinch," sung by the eccentric Uncle Si Robertson.
Although the idea of the Robertson family singing may come as a surprise to viewers who know them simply as the creators behind a succcesful duck call business, several of the family members reportedly sang in the church choir growing up.
The Robertson clan first announced its plans for its Oct. 29 Christmas album release date at the Country Music Awards' Music Festival in June. The Universal Music Group Nashville said after the announcement that the record will be sure to contain the Robertson family's "brand of Southern, down-home sense of humor."
The record is being produced by well-known country music producer Buddy Cannon, who has been the longtime producer behind country music star Kenny Chesney.
The Robertson's signature humor can be seen in one the song titles from the upcoming album, "Hairy Christmas," that will feature vocals from Willie Robertson and Luke Bryan with Phil, Uncle Si, Jase, Jep chiming in as well. The song's title is a reference to the family's trademark long beards that they grow during duck hunting season in Louisiana.
A&E's "Duck Dynasty" reality show has skyrocketed to success since it first premiered in March 2012. The show, described by many as a wholesome approach to reality television, follows the Robertson family as they run their Duck Commander duck call business in Monroe, Louisiana.