Egypt's Pope Tells Christians 'Don't Be Afraid' in Light of New Constitution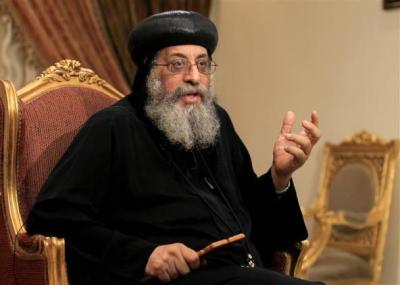 Egypt's Coptic leaders have recently spoken out regarding the country's newly approved constitution, which, since it became law on Dec. 26, has worried religious minorities in the country due to the power it gives to Islamist clerics and its weak laws regarding human rights.
The country's Pope Tawadros II encouraged Coptic Christians attending Christmas Eve mass on Sunday, Jan. 6 to not be afraid of the changes which the country is currently encountering.
"Don't be afraid," Tawadros told those in attendance at Sunday's midnight mass, as reported by The Associated Press.
"Even if humans feel lots of fear, remember God will take care of you. This is a collective message because fear is contagious [...]This is a message of reassurance," Tawadros added.
Tawadros, who took over the title as the country's head Coptic leader after Pope Shenouda III died in March after 40 years of service, also said in his sermon that copts must pray for Egypt's new government and new president, Mohammed Morsi, who is a member of the Muslim Brotherhood political party.
"We don't pray for the land. We pray for the humans, all humans ... starting with the president, Mohammed Morsi, and all officials, and for God to give everyone wisdom and responsibility to manage the affairs of this country and its people in true Egyptian spirit," Tawadros said.
Copts celebrate Christmas Day on Monday, Jan. 7 because their calendar varies from Roman Catholic and Protestant calendars.
Egypt's new constitution, which was approved by an Islamic majority in late Nov. 2012, has sparked concern among religious minorities and human rights proponents in the country because it reportedly offers a dangerous amount of power to Muslim clerics, as well as further limits civil liberties in the country.
Religious leaders, including Bishop Kyrillos William, administrator of the Coptic Catholic Patriarchate of Alexandria, have spoken out against the new constitution.
"We were waiting for a constitution that represents the whole of Egypt but instead we have one that only represents one group of people," William said of the new constitution's reported preferential treatment towards Muslims, according to the Catholic Herald.
"We can see that the religious orientation of this constitution prepares the way for an Islamic caliphate," William added, referencing what he believes to be the beginning of a new Muslim dynasty in Egypt.
Recent reports indicate that Christians are fleeing their native land of Egypt in droves.
NPR, for example, reports that the Coptic Christian population in the U.S. has swelled by 30 percent recently, and some churches have reported a doubling in their congregation in the past two years.
Egypt's government, headed by Morsi, continues to assert that the new constitution in no way limits civil liberties.
"The Egyptian constitution, approved by a majority of Egyptians in a democratic vote, safeguards civil liberties and human rights including freedom of speech and press," Morsi's foreign-affairs office said in a recent statement to Al Jazeera news channel, defending itself amid allegations that it was cracking down on freedom of the press in the country.