Erwin McManus Ushers in New Chapter With MSC, Live Worship Recording at Historic Wiltern Theater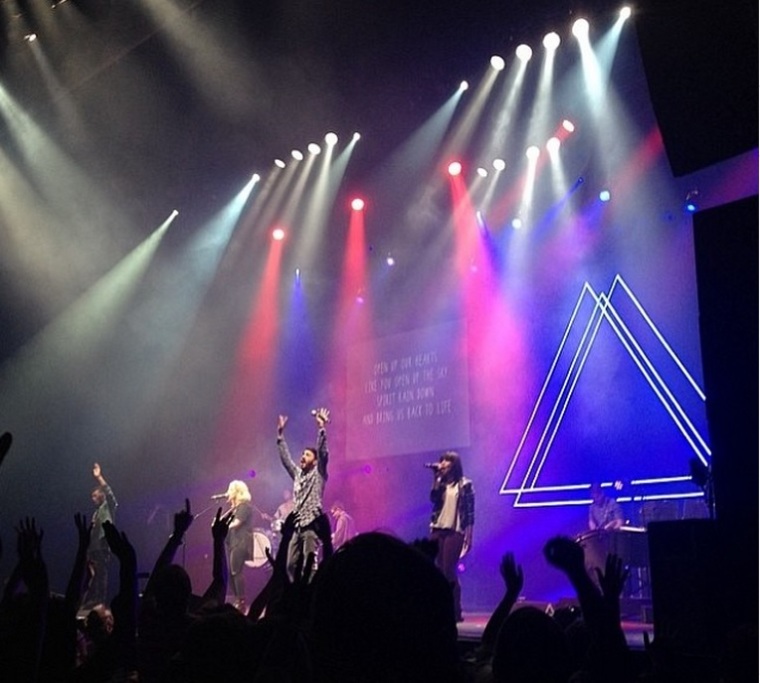 LOS ANGELES – Author and pastor Erwin McManus ushered in a new chapter in his ministry, that includes encouraging and nurturing creativity within the Christian community, when he introduced his daughter and core members of Mosaic L.A. church's worship team to record their first album in front of 1,400 people at the historic Wiltern theater Saturday evening.
"This is not simply a concert, it's an act of worship to the creator of the universe," McManus, who is the lead pastor of the church that includes locations in Hollywood and downtown Los Angeles, told the enthusiastic crowd.
McManus explained during a recent sermon on the importance of worship, that when the church launched more than 20 years ago, he was also the worship leader and was admittedly "not very good." However, during his first experiences with listening to old hymnal music, although sometimes difficult to comprehend, he realized that music was a powerful method that God used to move people, he said. The event on Saturday was the culmination of a dream he's had for more than two decades, McManus explained.
His daughter, Mariah McManus, who is Mosaic's worship leader, led the charge for the more than two-hour concert that was filmed for both a music video and a program to be shown on TBN, according to executive pastor Lawrence Fudge. The all-original music by MSC (the name of the musical artist's group combining "Mosaic" and "music") is "both distinctly Mosaic and Los Angeles," Fudge told The Christian Post.
Indeed, the band inspired a raucous crowd featuring arms held high, sing-alongs, dancing, and a swaying Wiltern balcony seating section.
"MSC is the sound of the future. A loud and earth shaking declaration that the Church is alive and well in Hollywood!" McManus told CP through this reporter's Instagram account. "On May 24th, the building shook and the earth trembled as Jesus was lifted up and declared without shame at the Wiltern Theatre in Los Angeles California. MSC is an authentic LA sound with Jesus at the center."
The author of many books, including his most recent, The Artisan Soul – Crafting Your Life into a Work of Art, added, "Where ever and whenever God is moving in a new and fresh way there emerges a new song! MSC is the voice of the future generation emerging out of the world's creative epicenter. Los Angeles has been known as the center of creativity but has often been equality known for the absence of spirituality. MOSAIC is LA's SOUL and MSC her VOICE!"
McManus serves as the principal visionary and primary communicator of Mosaic in Los Angeles, as described on the church's website. He "inspires each person to live their most heroic life through the power of story, beauty, and design." Other books he has authored include Soul Cravings and Wide Awake. He is a native of El Salvador and is a graduate of the University of North Carolina and Southwestern Theological Seminary. He holds a Doctorate of Humane Letters from Southeastern University.
MSC's album is scheduled for release this fall, according to Fudge.