Gay Marriage Themed Christmas Ornaments Depict Baby Jesus With Same-Sex Parents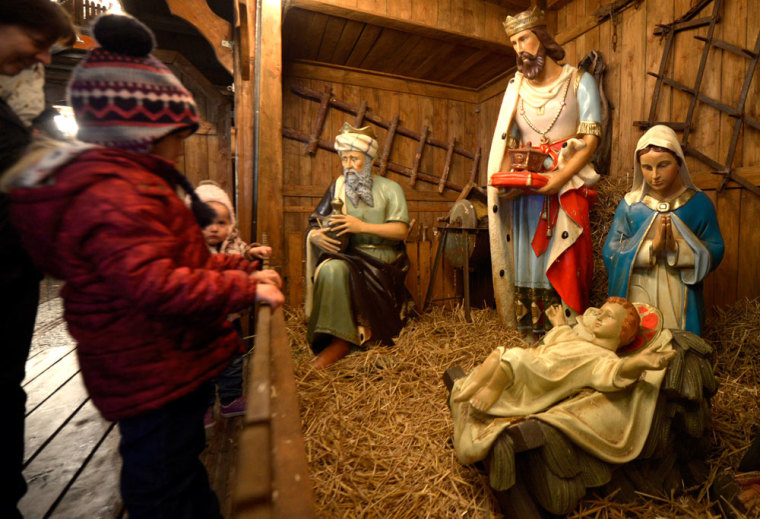 A California artist is coming under fire for creating gay marriage themed Christmas ornaments that change the nativity story by replacing Mary and Joseph with a same-sex couple standing over baby Jesus. 
The MailOnline reported on Monday that California artist Mark Thaler was selling the gay marriage nativity tree ornaments that feature either two gay Josephs or two gay Marys on Zazzle.com.
"Not everyone's viewpoints are the same. People need to coexist and not judge one another," Thaler said, claiming that the ornaments shouldn't offend Christians because "it's just an image."
"They [Christians] need to focus on themselves and not worry about what everyone else is doing," he asserted, speaking abotu the  about the two Josephs and the two Marys.
Christian Concern Chief Executive Andrea Williams, however, is accusing Thaler of creating the same-sex marriage themed nativity as part of a "blasphemous attempt to rewrite the Christmas story." 
"These decorations are a desperate and ridiculous attempt to pretend that homosexual relationships are pure and holy," Williams said.
"They blasphemously portray the Lord Jesus being parented by a homosexual couple. What depths will the LGBT lobby stoop to in order to try and normalize their behavior?" she asked.
Williams further accused the LGBT lobby of being interested only in "its own selfish agenda," rather than the welfare of children.
"God's design is for children to grow up with a male and a female parent. The Lord Jesus was parented in this way, and this is what is best for children," she added.
LGBT news site PinkNews reported that Thaler has since said he would consider removing the decorations "out of respect for his fellow humans," and they are now reportedly no longer listed on Zazzle.
So-called "modernized" nativity scenes have made headlines on a number of occasions this year.
A 10-piece "Hipster Nativity" scene featuring Joseph sporting a lumberjack beard while Mary holds a Starbucks coffee cup and flashes a peace sign sparked controversy for Casey Wright, the co-founder of the company behind the product.
Wright said the reactions she has received about the modern nativity range from: "'This is hilarious, I need one,' to 'This is sacrilegious, I hope you burn in Hell.'"
Bill Donohue of the Catholic League included the Hipster Nativity as one of his examples of how Christmas is being hijacked in the United States.
"The three wise men show up on Segways holding Amazon boxes full of presents; there is also a cow draped in a sweater with a '100% Organic' seal on it," Donohue said. "This depiction is more trendy than it is offensive."